Garage Door Repair in Irving, TX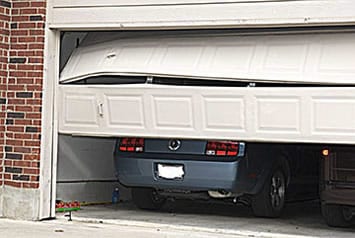 From garage door repair in Irving to maintenance or installation, at Action Garage Door, we have got all your garage door repairs in Irving covered. Our garage door service in Irving is committed to helping you find protection through a properly installed door.
When you want the best in garage door repair and other services, you have to turn to the best. For years, we have been providing residents all over Irving with the garage door service they need to have their garages in the best working order. As a garage door repair company that is committed to customer satisfaction, nobody beats Action Garage Door.
Our family-owned business has been satisfying customers for 30 years and we are waiting to help you find the services you need for your garage door in Irving. Our products stand up to the weather and our work is performed in strict compliance with all local codes.
At Action Garage Door, we understand you have many needs when it comes to garage door service. For this reason, our garage door service goes way beyond simple repairs. We install doors for homes steel garage doors and businesses steel overhead garage doors, fix garage door openers, secure or repair steel garage door loose cables, and provide many other services.
Garage Door Installation in Irving TX
No two home or business owners are alike, and our garage door repair company understands that no two will want the exact same garage doors and set up. At Action Garage Door, we offer a variety of garage doors for installation in Irving homes and offices. Some of our options include Carriage House steel garage doors, Olympus steel garage doors, Classica steel garage doors, Heritage home garage doors, and Amarr overhead garage doors.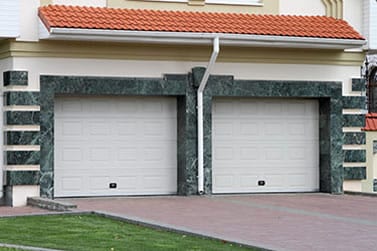 In addition to the types of doors we install, we have a tool that helps you create a custom garage door so you can get the door that goes perfectly with your home or office. Whether you want to match the exterior just perfectly, or if you are picky about windows, a fully customized garage door is just around the corner.
Action Garage Door Repair serves residents of Irving with the best comprehensive repair technicians available in the Dallas-Fort Worth Metroplex. Our company philosophy is based on service and attention to detail. Whether you need minor adjustments, a pulley replacement, or a brand new garage door at your home or business, our knowledgeable and courteous team responds quickly and professionally to take care of your needs.
Our family-owned business has been serving clients in communities throughout Texas for more than 30 years, and we have built our reputation on keeping our word and exceeding customer expectations. We service all brands of doors, and we can supply you with your choice of traditional or modern garage doors in the most popular sizes available. Let us help you choose the perfect style for your residential or commercial needs.
About Irving, Texas
The city of Irving, located in the northwest quadrant of Dallas County, is a large suburb of Dallas and part of the fourth largest urban population area in the nation, known as the DFW Metroplex.
With a population nearing 250,000, it is more city than a bedroom community. The well-known Las Colinas development first envisioned in the 1960s, is one of the first and finest master-planned mixed-use developments in the United States. It covers approximately 12,000 acres and was one of the major forces behind the shift of business from downtown Dallas to the outlying areas. It is truly a city within a city.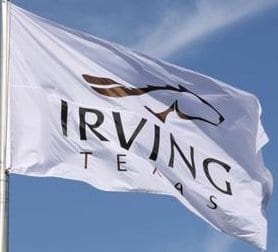 A portion of DFW International Airport lies within the city's boundaries. Irving's neighborhoods are popular and convenient for airline employees and many air transportation-related businesses; Fort Worth's Alliance Airport, a 100% industrial facility designed specifically for cargo and corporate aviation, is also located nearby. Irving is a popular choice for airline employees and air transportation-related business firms, and more than 75 hotels serve visitors.
However, most travel in Irving is by private automobile, the norm throughout the Metroplex. Several major highways and toll routes serve the city and whisk people in any direction: west to the Mid-Cities and Fort Worth or east to Dallas, south to Arlington and downtown Dallas, north to Denton, and northwest to the mushrooming northern communities of Plano, Frisco, Allen, and McKinney.
Irving has distinctive residential neighborhoods; it is known as a friendly, moderately-priced suburb with a mix of housing styles, including single-family homes, townhouses, condos, and attractive, amenity-filled apartment buildings. The median home price in 2016 reached $176,500, up almost 20% from the previous year. According to comprehensive AreaVibes ratings, the cost of living index in Irving is 100, or right at the national average. Even though home prices are substantially lower than national figures, they are 11% higher than the Texas average, largely due to the area's popularity and the continued growth of the Dallas-Fort Worth area.
Irving Attractions and Destinations
The national office of the Boy Scouts of America organization is in Irving, as is the National Scouting Museum, with a large scouting-themed collection of Norman Rockwell art. The Dallas Cowboys football team played in Irving for 38 seasons, until 2009 when the team moved to its new $1 billion-plus stadium in nearby Arlington. The unusual open-roofed Irving facility was demolished in 2010 by controlled implosion.
The city's innovative new convention center has more than 100,000 square feet of meeting and exhibit space and represents the first phase of an entertainment district set on 40 acres in Las Colinas. When completed in 2017, there will also be an 8,000-seat Music Factory entertainment venue and a 350-room Westin Convention Center Hotel.
The Irving Arts Center is another popular venue for music and cultural performances, and for outdoor enthusiasts, there are numerous parks, trails, paths, and ball fields. The Irving Independent School District enrolls more than 35,000 students and operates 20 elementary schools, eight middle schools, and five high schools, in addition to three early childhood (pre-K) centers.
The University of Dallas, a private Roman Catholic four-year university that offers both undergraduate and graduates degrees, and North Lake College, a private two-year community college, are both located in Irving. In addition, there are more than 45 other institutions of higher learning located within 50 miles of the city.
More than 30 Fortune 500 companies, including Exxon-Mobil, Kimberly-Clark, and Fluor Corporation, are headquartered in Las Colinas, renowned for its huge Mustang sculptures and the Mandalay Canal boasting Venetian-style gondolas. There are several luxurious hotel resorts in the area, in addition to homes, entertainment, shopping, restaurants and office buildings. In many ways, it is a city within a city and has become a destination for area residents as well as for tourists.
The Byron Nelson Golf Championship has been played at the Four Seasons Resort and Club in Irving for more than 30 years; however, a new South Dallas course is expected to host the tourney beginning with the 2019 season.
Whether you come to Irving to work, play, attend a school or live for a lifetime, you're sure to find a way to meet people with similar interests, and activities to keep you busy all day and all year!
Contact Us Today

To get started with your garage door repair, installation, or replacement, contact Action Garage Door in Irving today, and let's talk about the options available from the garage door repair company that has been caring for customers since 1984.
Irving Garage Door Service Area
Local Reviews
for Irving, TX
Action Garage Door Repair Specialists
Rated
4.9
out of 5 stars based on
512
customer reviews
---
Great service
Christina

-

Irving

,

TX

75060



Review of
Action Garage Door Repair Specialists
Great service
---
Excellent Service
Becky

-

Irving

,

TX

75061



Review of
Action Garage Door Repair Specialists
We have used Action Doors for years and have always been extremely happy with the service. The technicians are always friendly and explain everything they are doing. We will continue to use them for years to come.
---
Excellent Service
Christina

-

Irving

,

TX

75060



Review of
Action Garage Door Repair Specialists
---
Excellent service
Teresa

-

Irving

,

TX

75060



Review of
Action Garage Door Repair Specialists
---
Exceptionally Excellent Service
Richard

-

Irving

,

TX

75062



Review of
Action Garage Door Repair Specialists
Shaun is an amazing, known, and skilled technician. He patiently pointed out the problems with my garage door and recommended solutions. He is a very polite. After completing the repairs he showed me what was replaced and how to perform routine maintenance on the door. Wow! The garage door now quietly opens and closes fully. In fact I enjoy opening and closing it. Shaun takes pride in his work. He is an exceptional technician, especially in this day and age when many people don't truly care about their work. I recommend Shaun extremely highly. He's the best.
---
Great service
Denise

-

Irving

,

TX

75063



Review of
Action Garage Door Repair Specialists
---
Excellent Service
Ronnie

-

Irving

,

TX

75062



Review of
Action Garage Door Repair Specialists
Kevin W was very professional and friendly he also explained what he was going to do. Thank you exceptional service.
---
Ryan provided outstanding service!!!! He went above & beyond - this is hard to find these days, but he did it!!!
Richie

-

Irving

,

TX

75060



Review of
Action Garage Door Repair Specialists
---
Fast service! Very nice!
Sonia

-

Irving

,

TX

75060



Review of
Action Garage Door Repair Specialists
My garage door broke at 3am and we scheduled an appointment for 9am the next morning and they came exactly at 9! Came and fixed the door in a timely manner! Really nice man
---
Excellent Service
Julia

-

Irving

,

TX

75038



Review of
Action Garage Door Repair Specialists
Great job, quick and thorough
---
Action G.
Hinge and labor
Near

Tameria Dr,

Irving

,

TX

75060
Action G.
Tune up
Near

Linden Lea,

Irving

,

TX

75061
Action G.
Reset door and rollers
Near

Royalty Row,

Irving

,

TX

75062
Action G.
Keypad
Near

Ruby Rd,

Irving

,

TX

75060
Action G.
Opener relocation
Near

Evening Star Ct,

Irving

,

TX

75063
Action G.
Bearing plate, door tune up and rollers
Near

E Cortez Ct,

Irving

,

TX

75062
Ryan P.
Garage door repair
Near

Evening Star Ct,

Irving

,

TX

75063
Shaun O.
Opener not going down
Near

Esplendor Ave,

Irving

,

TX

75062
Action G.
Programming
Near

Forest Glen Dr,

Irving

,

TX

75063
Kevin W.
Programing
Near

Rodeo Dr,

Irving

,

TX

75063
We fix Garage Doors in these nearby cities too!