About Action Garage Door
Action Garage Door has been a family-owned garage door company since 1984 and is an accredited member of the Better Business Bureau in Dallas/Fort Worth, Austin, and Houston. Our local garage door service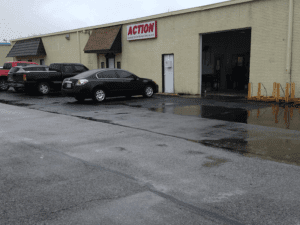 company has been in the same location for 40 years, making more than 400,000 satisfied customers for life!
Why Choose Us for Garage Door Service?
One of the benefits that our clients enjoy most is our commitment to provide you with an in-person price quote whether you immediately hire our services or not. We'll quote an established price straight out of our price book, we'll put it in writing and we'll stand by that price even if you decide to contact us at a later date.
At Action Garage Door, we don't consider the job done until you're satisfied with your new garage door's installation. A security-screened technician will guide you through the garage door opener programming process, ensuring that you're the only one that can access your garage.
Our two most important priorities are to make our customers feel safe and satisfied with our work. We offer around-the-clock garage door repair and do not charge extra fees for Saturday appointments.
Garage Door Technicians Are Screened by Texas DPS Background Check Program
We screen each and every garage door service technician through the Texas Department of Public Safety (DPS) background check program. No one convicted of a felony or ever charged with a Class B misdemeanor will be sent into your home or business via our garage door company. By screening every technician, we ensure your safety and our good reputation.
For your added security, Action Garage Door technicians also walk you step-by-step through programming your garage door remote controls. This ensures that you are the only one who has access to your garage. We caution against allowing none background approved technicians the ability to program an additional garage door opener to gain access to your home. There's never that worry with personnel from Action Garage Door, as we go the extra mile to keep your family safe.
Career Opportunities with Growth Potential
We are always accepting applications for garage door technicians and business staff. Please contact us at 972-423-0168 for any available openings and to submit your application or resume.
For all garage door installation, opener, and repair contact us online or call the location nearest you.
In Dallas-Fort Worth, call 972-254-4040 or 817-633-3119.
In Austin TX area cities, call 512-447-3667.
In Houston and surrounding communities, call 713-222-1500 | 281-752-7100.