Amarr Heritage Garage Doors
When you're looking for a highly durable garage door that's also stylish, consider investing in a Heritage garage door from Amarr. Heritage garage doors offer heavy-duty steel construction that helps them last for several years, as well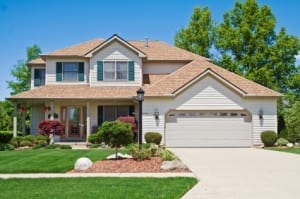 as mosaic window options and other fashionable features.
These doors provide a safe, secure, and strong product that you and your family can use on a regular basis with little to no signs of wear and tear. At Action Garage Door Repair Specialists, we offer several different Heritage garage door options for your home in Dallas, Fort Worth, Austin, Houston, and the surrounding areas.
Heritage Garage Door Installation
As the premier Heritage garage door company, Amarr is known for producing garage doors that offer sophistication, innovation, and functionality. Heritage doors, which are available in an impressive variety of styles, have the high-quality craftsmanship that Amarr is famous for, as well as safety features and other features that make them a wise investment for any homeowner. These doors are made of durable, heavy-duty steel, which holds up well in all kinds of weather conditions and is strong enough to resist excessive wear and tear over long periods of time.
At Action Garage Door Repair Specialists, our team of experts can assist you in selecting the right Heritage garage door for your home. Whether you want a standard-style door or one with mosaic windows, we're here to help you choose the perfect garage door that enhances your home's appearance. Heritage garage doors are also available in a wide range of colors, so you can select the ideal tones for your garage.
Heritage Garage Door Repair
Heritage garage doors feature superior craftsmanship and are made from heavy-duty steel, but they can still become damaged due to accidents or malfunctions. If you need Heritage garage door repair, you can rely on the professionals at Action Garage Door Repair Specialists to help you out.
Our experts have many years of experience fixing garage doors of all styles and sizes, including Heritage doors. Whether you have a serious problem with your door or a minor one that's more of an inconvenience, it's important to have it repaired as soon as possible.
Prompt Heritage garage door repair services help keep your door in good condition for years to come. Making sure that your door is also able to open and close as safely as possible also significantly reduces the risk of injuries. Our experts know how to handle all types of garage door repairs that affect Heritage doors, from broken springs to busted cables and track problems.
Garage Door Styles and Trends
When it comes to garage door styles and trends, Heritage garage doors are among the top choices for homeowners. These doors feature a wide range of design styles to suit many different exteriors. From contemporary, streamlined doors with square or rectangular windows and panels to more decorative mosaic windows and patterns, you can choose the right door for your home from Heritage's selection.
Heritage garage doors feature different options in terms of panel design as well. You can choose from short panels, long panels, flush panels, or ribbed panels to give your garage a flattering appearance. Heritage also offers hundreds of color options to consider, so you can complement your home's exterior or provide a contrast to it that's visually appealing. In addition, you can also choose a door design with clear glass or obscure glass.
Our experts can walk you through the design process and help you choose the best options for your Heritage door based on what you like and what would work best with your home.
When making an investment in a new garage door for your home or business, Heritage garage doors offers amazing possibilities. For more than 40 years, Action Garage Door has been installing the Heritage collection in various households across the area. These durable garage doors offer superior insulation and protection from the elements, as well as from intruders. Here are just a few reasons why Heritage garage doors are superior to the competition:
Hot-dipped galvanized, rust-resistant steel
Pre-painted with a strong polyester top-coat, offering superior durability
Limited lifetime warranty on finish and paint is included with all of our Heritage Doors
Three-year hardware warranty
Low Maintenance and high performance
Double-layered 24-gauge steel with a laminate backing
DuraSafe tongue and groove joints are pinch-resistant, making them safe for hands and fingers
An embossed woodgrain finish looks gorgeous in a wide range of designs
Other Garage Door Styles
In addition to Heritage garage doors, our specialists install the following types of residential garage doors:
Call Today!
In Dallas-Fort Worth and surrounding Texas cities, call 972-254-4040 or 817-633-3119.
In Austin TX area cities, call 512-447-3667.
In Houston and surrounding communities, call 713-222-1500 | 281-752-7100.