Residential Garage Door Installation
Whether you are looking for a new garage door for your residential or commercial location, the aim is always to get the best product at the best value. Replacing the garage door on your home is the #2 most valuable return on investment for a home improvement. A new upscale garage door will bring a 75.2% return on your investment. Let Action Garage Door help you find the best garage door to fit all your needs. Customers in Dallas, Fort Worth,  Houston, Austin, San Antonio and surrounding communities can select a garage door to fit any size specification, type of use, or style preference.
Your Options for Residential Garage Door Styles
Our garage door specialists install the following types of residential garage doors. Our company is committed to providing excellent services and products, that's why we work with best manufacturers in the industry.  You can visit the interactive Amarr garage door collection page to see additional options and learn more about Amarr's quality garage door construction.
Steel Garage Doors
Carriage House Garage Doors
Overhead Garage Doors
Custom Garage Doors
Olympus Garage Doors
Classica Garage Doors
Heritage Garage Doors
Stratford Garage Doors
WeatherGuard Garage Doors
Chi Garage Doors
How to Choose Your New Garage Door
To help you choose the perfect new garage door, take these important elements into consideration:
Design
Material
Colors, finishes, window options
Thickness, durability, insulation
Maintenance requirements
Strength and gauge of track, hardware and face steel
Security
Garage door safety issues
Garage door warranties
Torsion and extension springs
Our garage door technicians can explain the terminology needed when you compare different garage door models and materials. Ultimately, helping you meet your needs, whether you need to find your new garage door manual or find a brand new system.
When comparing steel gauge, the lower the gauge number, the thicker and stronger the steel. For safety, we recommend using a new track whenever you have a new garage door installed. The old track may not be compatible. Garage doors must be properly aligned and balanced for proper performance.
Garage door manufacturers use R-values to indicate the overall energy efficiency of their products. That number is calculated from a formula that takes into account the thickness and chemical makeup of the garage door insulation. Polyurethane insulation is generally considered a better insulator than polystyrene. The R-value refers to each individual garage door section, so the quality of the garage door's construction greatly impacts energy efficiency.

Residential Steel Garage Doors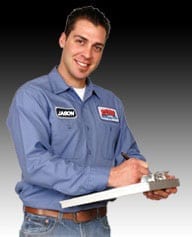 Action Garage Door offers a wide selection of residential steel garage doors to customers in the Dallas, Austin, San Antonio, and Houston areas.
The Amarr brand of residential steel garage doors features three pinch-resistant models: Stratford (good), Heritage (better), and WeatherGuardTM (best). We also carry the Olympus, a tongue and groove garage door model that provides superb energy efficiency.
All Amarr steel garage doors are made of roll-formed American-made steel that has been hot-dip galvanized to resist rust. These highly recommended garage doors are pre-painted with a primer and tough polyester top-coat, providing years of low maintenance beauty. Whether you are shopping for a premium steel garage door or standard steel garage door, Action Garage Door has the perfect product for you! We can even dispose of your old garage door as part of our service!
Classica Steel Garage Doors
 The Classica garage door is the first steel garage door in the world to have a carriage house look. This brand is rendered in 100% pre-painted steel with a pinch-resistant design. The door works like a typical sectional garage door, but its 3-section design gives it a vertical swing-out look. The Classica, available in 32 design combinations, is the most affordable all-steel carriage house door on the market.
Carriage House Garage Doors
Action Garage Door offers a beautiful line of residential steel garage doors inspired by actual doors and other architectural elements seen in the renowned Biltmore Estate of North Carolina. Our Biltmore Estate For Your Home® Carriage House garage door combines the strength of steel with the look of wood.
Residential Wood Garage Doors
Action Garage Door offers a variety of wood garage doors. Made of 1-3/8-inch-thick kiln-dried lumber, these wood garage doors can be unfinished or primed. These garage doors come with a wide variety of glass and window trim options. A wide variety of widths and heights will accommodate most garage door openings.
Our garage door repair specialists are ready to earn your business!
Contact us online or call the location nearest you.
In Dallas-Fort Worth and surrounding Texas cities, call 972-254-4040 or 817-633-3119.
In Austin TX area cities, call 512-447-3667.
In Houston and surrounding communities, call 713-222-1500 | 281-752-7100.
In San Antonio and surrounding area, call 210-787-3990.