Curb Appeal? Don't Forget Your Garage Door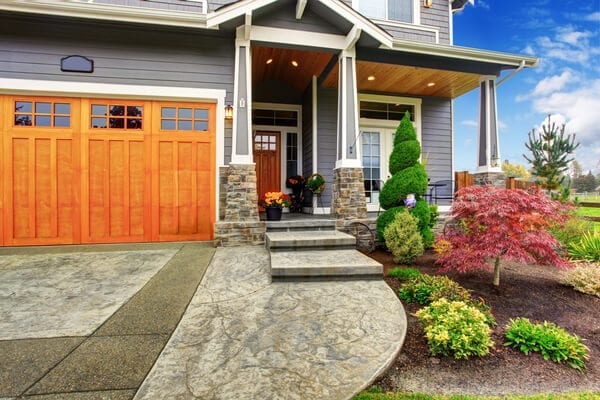 Garage doors are more than utilitarian additions to your home. The right garage door can make a statement. It can also add an incredible amount of curb appeal. Whether you're looking to make a statement or you're looking to make your home more attractive to buyers, choosing the perfect garage door can help you accomplish either of these goals while making you fall a little more in love with the place you call home.
How Much of a Difference Can Garage Doors Make for Curb Appeal?
Curb appeal is all about that first impression. Whether you are inviting family or friends over or you are wanting your home to stand out so that it sells, your garage door can make all the difference when it comes to your curb appeal. Many homeowners underestimate the power the garage door can have on the first impression and on the value of their home.
Here is a quick overview of the influence that your garage doors have:
From a real estate standpoint, garage doors hold a lot of influencing power. An old one that has stains or obvious signs of damage can not only affect the overall impression of your home, but can also make buyers turn away from your home before even going in. However, a brand new garage door can significantly increase the value of your home and draw people in to see it. Most real estate agents agree that a new garage door can increase your home's value by 4-8%. With the average home in Texas selling at $231,000, a new door on the low end can increase that value by $9,240, and by $18,480 on the higher end.
From a purely aesthetic standpoint, garage doors can help transform a tired and worn exterior that feels dated and drab into something thoroughly modern that offers ageless charm or provides the perfect contrast for a contemporary look. Either way, your new garage door will be sure to turn some heads.
And, to make your home even more eye-catching, combine your new garage door with other activities designed to boost curb appeal, such as landscaping or pressure washing your driveway and siding.
Considerations When Choosing Garage Doors for Your Home
Your garage door has never mattered more than it does now. A decade or so ago, the front door was the most important part of your home. However, this is no longer the case. Many homes are being built with large garage doors facing the street, making them the most obvious choice when it comes to dramatic visual appeal. There are a lot of things to consider when choosing your new garage door—here is a quick guide what to look for:
Choosing The Perfect New Garage Doors
Replacing an older garage door with a brand new one can instantly boost the visual appeal of your home. Regardless of whether you want to go with a traditional garage door or a more modern look, there are many different styles and options to choose from. Wondering what kind of options help boost your door's visual appeal the most? Here are a few that help capture the eye and intrigue interest:
Special Features: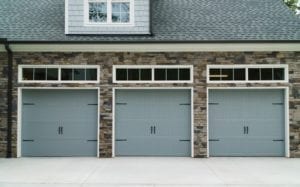 Some homeowners complain that garage doors make the home look boxy and bland but that doesn't have to be the case. Garage doors can be a highly stylized option for your home, complementing the natural aesthetic or helping create a pleasing contrast that makes your home pop. Some ways to escape the boring reputation that garage doors sometimes get is to invest in the following:
Window panes
Horizontal relief patterns
Vertical lines
Barn door style cross beams
Material the Garage Door Is Made Out Of:
Another way to help increase visual interest in your garage door is to pay attention to the type of material being used to make it up.There are a wide variety of materials to choose from and each one has their unique benefits. Here are just a few options:
Steel
Wood
Fiberglass
Aluminum
Color:
Garage doors can be painted or stained to either match your home's given aesthetic or to be a pop of color. Here are a few tips about how your garage doors should be colored:
If your front door is visible from the road, don't match the colors. While this can be a bit confusing, there are a few reasons for this tip. Your front door is the main entranceway to your home and should be highlighted. In this case, it is best to choose neutral colors to help your garage door blend in with the rest of your home. This helps highlight your front door while keeping your garage door looking great.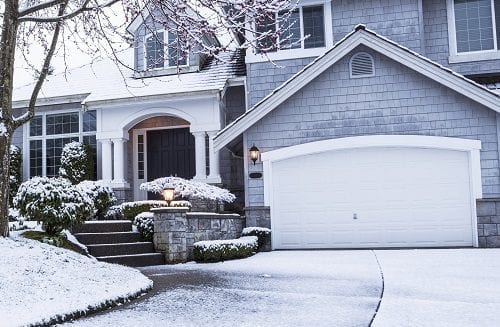 If the front of your home showcases the garage, then make the color and design pop. As mentioned earlier, garages are being built towards the road and becoming the main showcase for the house. This is to help designers create an aesthetically pleasing home while making it easier for homeowners to access their garage. The color you choose for your garage door should complement the other accents colors of your house, such as the siding, brick, and roof. Remember to always focus on the overall picture with your garage door.
Think about investing in a garage door that is insulated. Your garage door serves as a buffer zone between the outside and the interior of your home. You probably come in through the garage loaded down with packages and groceries throughout the year. Insulated garage doors provide a buffer between the harsh heat of the summer and the bitter cold of winter. It keeps the garage temperature stable, allowing you to save money on energy bills by not keeping the outside temperatures from leaking into your home.
Mechanical Considerations
It isn't just the style of the garage door that you should be paying attention to—you also want to pay attention to the mechanisms that support your garage door as well. Having higher-quality mechanics can increase the value and overall effectiveness of your door. Here are some things to keep in mind:
Garage Door Openers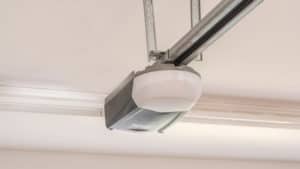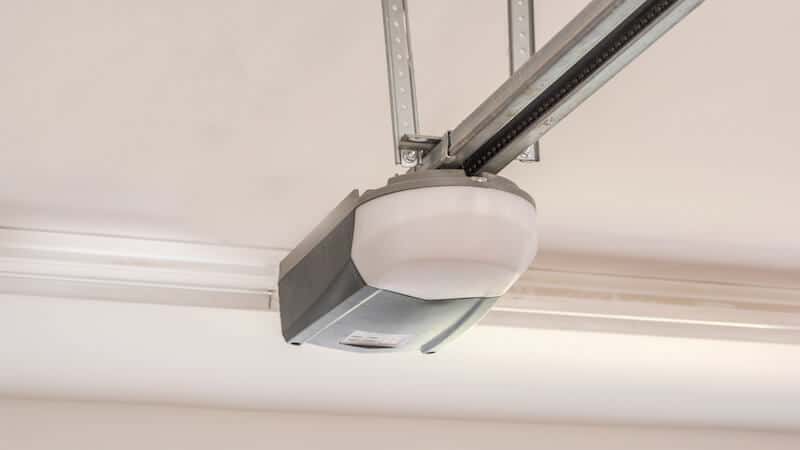 When you invest in a garage door replacement, you may also want to replace your garage door opener. This way, both pieces will be under new warranties and you'll be better able to remember these important dates of purchases while feeling confident that there won't be any problems with the opener that could put your new garage door at risk of becoming jammed or damaged.
New Garage Door Springs
You always want to invest in high-quality garage door springs. It is worth replacing the springs when you purchase a new garage door to help protect your investment. Make sure you work with a professional garage door technician when purchasing and installing a garage door spring. Garage door springs are an extremely important part of your garage door and should never be installed by individuals who are not properly trained. The springs can be extremely dangerous and any missteps in the installation process can lead to serious injuries or damage to your door.
Action Garage Door Repair Specialists Can Help You Update Your Garage Doors
Action Garage Door Repair Specialists can help you find the perfect garage door to complement the aesthetics of your home while increasing its value. Our team offers a wide variety of brands and customization options to help you find the garage door that best suits your needs. Contact our team today to allow our team to walk you through the process of selecting the ideal garage door for your home.