LiftMaster Garage Door Openers Installation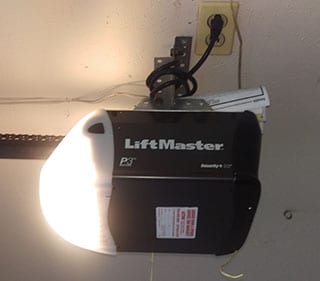 Here at Action Garage Door, we know owners of commercial and residential buildings need to have a garage door opener they can rely on to faithfully open their garage doors for many years. While some companies feel comfortable selling cheap and unreliable garage door openers to their clients, we are determined to sell only the highest-quality brands. We are proud to offer both our residential and commercial customers the option of purchasing a powerful and durable LiftMaster garage door opener.
To help you figure out which model you need, we will ask you some simple questions about your garage door usage. Depending on how much traffic your garage receives, you may need a standard opener or a heavy-duty opener that is capable of meeting your high-traffic needs.
Quick Service
In addition to providing LiftMaster garage door opener installation, we are also available to help our customers with the following services (which can often be done on the same day you call):
Garage door repairs and replacement
Garage door installation
Garage door opener repairs and replacement
Garage door opener installation
Garage door maintenance
We are also available to repair or replace any of the parts necessary to keep your garage door functioning smoothly. We have extensive knowledge and experience installing and maintaining garage doors and we offer quality, quick service for any brand name of garage door you may have.
Commercial and Residential
No garage door is too big or too small for our capable technicians, which is why we regularly service standard garage doors in residential areas as well as heavy-duty garage doors in commercial buildings. No matter how seldom or how often your garage door is used, we have a LiftMaster garage door opener that will be the perfect fit for your needs.
Learn More
If you want to learn more about the garage door openers we offer, contact Action Garage Door today at and we will be happy to answer all of your questions and help you choose a reliable garage door opener for your home or business.
Contact us online or call the location nearest you.
In Dallas-Fort Worth and surrounding Texas cities, call 972-254-4040 or 817-633-3119.
In Austin TX area cities, call 512-447-3667.
In Houston and surrounding communities, call 713-222-1500 | 281-752-7100.