Residential Steel Garage Door Installation
Steel Garage Doors Offer Lifetime Durability
Satisfied customers in Houston, Dallas, Austin, and surrounding Texas cities love Action Garage Door's wide selection of Amarr residential steel garage doors. Choose from three different lines of pinch-resistant garage doors to fit every budget.
Amarr steel garage doors are made of roll-formed, American-made steel, that has been hot-dip galvanized to resist rust. These doors come pre-painted with a primer and tough polyester top coat providing years of low-maintenance beauty. One of the benefits of steel garage doors is their ability to be painted with different types of paints and coatings. Before starting a garage door painting project, it is important to review the manufacturer's notes and our professional garage door painting guidelines.

The WeatherGuardTM and Heritage models feature DuraSafe pinch-resistant, tongue and groove joints. This design helps prevent injuries to fingers and hands. Plus, the snug-fitting garage door sections reduce infiltration of dirt, dust, and weather. All WeatherGuardTM and Heritage garage doors feature tamper-resistant bottom brackets, flush-mount center hinges, and end hinges that leave no room for fingers to be caught between sections.
Other Options for Residential Garage Door Styles
In addition to steel garage doors, our specialists install the following types of residential garage doors:
Wood Garage Doors
Carriage House Garage Doors
Overhead Garage Doors
Custom Garage Doors
Olympus Garage Doors
Classica Garage Doors
Heritage Garage Doors
WeatherGuard Garage Doors
Chi Garage Doors
We Carry the Brands You Trust
Action Garage Door's best-selling premium insulated steel garage door is the WeatherGuardTM. We offer the top-of-the-line WeatherGuardTM Plus with DuraSafe for outstanding durability and insulating capacity.
Also popular is the premium steel WeatherGuardTM with re-engineered safety features. Both WeatherGuardTM models come with a lifetime limited warranty that includes paint, finish, and hardware.
The Heritage garage door model combines beauty and durability that will satisfy even the most discriminating consumer. This uninsulated, galvanized steel garage door comes with a limited lifetime warranty on paint and finish and a 3-year hardware warranty. Choose your embossed woodgrain finish in a variety of designs!
Action Garage Door, serving Dallas, Austin, Houston, and surrounding Texas cities, also offers a variety of standard steel garage doors. These also feature DuraSafe pinch-resistant technology on an open-back 25-gauge door. Many steel garage doors carry a 15-year warranty on paint and finish and a 1-year warranty on hardware.
For all those energy-conscious consumers in Texas, Action Garage Door offers the Olympus model. The Olympus insulated steel garage door features triple-layer construction and polyurethane insulation for an impressive R-value of 15.67.
WeatherGuardTM Plus Steel Garage Door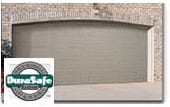 WeatherGuardTM Plus, with the DuraSafe pinch-resistant system, is our top-of-the-line insulated steel door. These premium steel garage doors have a strong 24-gauge steel outer skin and feature a lifetime limited warranty on paint, finish, and hardware. This garage door is 2 inches thick with an R-value of 9.19.
The next level of residential steel doors from Action Garage Door is the WeatherGuardTM with DuraSafe. Amarr's premium steel door has been completely re-engineered with safety features designed to reduce the risk of pinching and other injuries. This insulated steel garage door measures 1-3/8 inches thick with an R-value of 6.58. This model also comes with a lifetime limited warranty on paint, finish, and hardware.
The Heritage Steel Garage Door

The Heritage residential steel garage door comes with a limited lifetime warranty on paint and finish, plus a 3-year hardware warranty. Now with DuraSafe pinch-resistant technology, tough 24-gauge steel makes the Heritage garage door an unbeatable combination of beauty and durability. This popular model is made of steel that is hot-dip galvanized and pre-painted with a primer and top coat.
Action Garage Door, serving the Dallas, Houston, and Austin, metropolitan areas, has been installing the Heritage models for more than 21 years! Top-quality hardware on this premium uninsulated steel door ensures years of low-maintenance performance. The Heritage features tongue-and-groove construction for a tight fit and added door strength.
For Texas homeowners who prefer an insulated garage door, The Heritage insulated model features double-layer construction of 24-gauge steel, 1 7/16 inches of CFC-free polystyrene insulation with a laminated backing, and an R-Value of 6.84. This open-back 24-gauge garage door is available in a variety of colors and styles.
All Heritage garage doors feature an embossed woodgrain finish in a variety of designs.  Deeply sculpted short and long panel designs or a flush-door design is available in true white, almond, sandtone, or brown. Matching DecraTrimTM window inserts can be added, as well as beautiful DecraGlassTM decorative windows.

Safe Bottom Bracket

The new tamper-resistant bottom bracket on our residential premium steel garage doors helps prevent accidents. Still, the design allows for roller maintenance and change without any need for disassembly. A full-length roller tube prevents slip outs.
Garage Door Sections


The section joint of the future is available today from our Plano TX garage door company. These premium steel garage doors use innovative technology to create a section profile that ensures pinch resistance both inside and outside, exceeding industry standards. Our customers love the fact that neither fingers nor weather can get in through their new steel garage doors!
Center Hinges


Flush-mount inboard design center hinges provide pinch-resistant protection and a low-profile look on the inside of the garage door.
End Hinges


With most of its action hidden inside the garage door, our re-engineered end hinges leave no room for even the smallest fingers.
Action Garage Door Repair Specialists are ready to earn your business!
Contact us online or call the location nearest you. We will help you with all your garage door needs, from finding the correct steel garage door manual to installing a brand new system.
In Dallas-Fort Worth and surrounding Texas cities, call 972-254-4040 or 817-633-3119.
In Austin TX area cities, call 512-447-3667.
In Houston and surrounding communities, call 713-222-1500 | 281-752-7100.