Finding the Right Garage Door Repair Company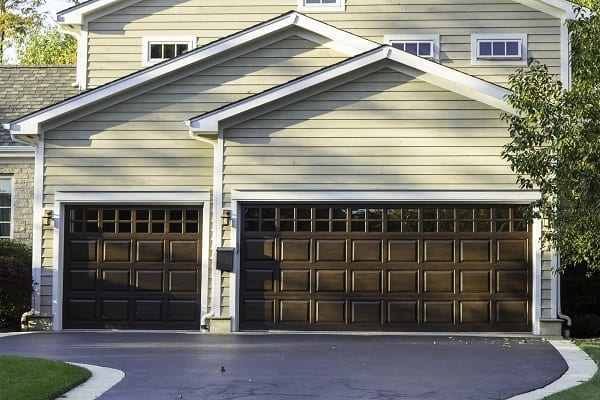 For many homeowners in the DFW Metroplex, Austin, and Houston, Texas, areas, their garage door acts as another entryway into their home. Others may use it to store valuable items such as family heirlooms while still others may use it as a creative space for their personal projects, such as restoring an older car. Whatever a garage is being used for, every homeowner can agree that a malfunctioning or damaged garage door is not fun to deal with, to say the least.
There are many questions that a homeowner may fret over such as: How much should a garage door repair cost? Is there really something wrong with my garage door or am I being scammed into buying a part I don't need? Do I need to upgrade my garage door? All of these questions cannot be answered without extensive research or the guidance of a trusted garage door repair specialist. Finding a team that can ensure that you get the correct and high-quality service your garage door needs can be challenging when you don't know where and what to look out for. Here are some ways that you can rest assured that the team you are investing in is the right garage door repair company for you.
1. The Garage Door Repair Company Has Positive Reviews and References
Word of mouth is the best advertising on the market. When a company can give their customers a positive experience, happy customers will talk about it. Reputable garage door repair companies should have plenty of positive feedback from previous customers and if there is a negative review, there should be evidence that something was done to address and solve the issue.
However, it is important to note that some customers may post negative reviews regarding factors that are out of the control of the company servicing them. For example, they may leave a negative review regarding the service about an issue that is the responsibility of the manufacturer of their door. Always look for patterns and corroboration; if one individual is saying the service is overpriced, this may not be true. However, ten people saying the service is overpriced may be the truth.
A reputable garage door repair company should also have no problem with providing new customers with a list of references they can call to ask about their services. These references will be able to give a clear picture as to how the company treated its client from the beginning of the service to its completion. When talking to a reference about their experience, make sure you ask the following questions:
Was the technician prompt, friendly, and polite?
Did the service end up costing more than quoted? If so, why?
Was the repair suitable and did it last, or did it need to be repaired again?
Had they compared multiple services and gotten additional quotes?
2. Always Get Multiple Quotes
To ensure that you are getting the best price for the services you need, make sure you talk to at least three to four different companies. The quotes should be broken down to explain where the money you are investing in your garage door installation, repair, and maintenance services are going.
Not only do multiple quotes give you a better view of all your options, but it also gives you a little bit of negotiating power. If there is a company that you prefer to work with, they may be willing to match a competitor's price.
Important Note About Pricing:
While everyone enjoys saving money when they can, cheaper doesn't always mean better. Always be wary of quotes that seem significantly less than the other ones you have received. For example, if one company is quoting you at half the price of another, ask why their prices are so low. If they dance around their answer, ask for an itemized list so they can show you exactly what is being spent where. This can also help you catch signs of one company trying to cut corners by leaving out steps that the other ones included.
3. Check Out the Important Information
Never accept services from a company without first researching to check and verify the following information:
The company has a physical address: A reputable garage door repair company should have a physical address that is listed online so that clients can easily find them when needed. This address should be verified using Google Maps and Google Street view.
It is important to note that fly-by-night companies may use fake addresses to avoid being tracked down. These scammers will use the same address as local gas stations, apartment buildings, and more. Always make sure that the address listed is legitimate before accepting services from a company.
The company has a website: Almost every company has a website. If the company that you are thinking about receiving services from does not have a site, this is a huge warning sign.
The company's online reputation: As mentioned earlier, reviews are a great way to see whether or not a company is trustworthy. An online search on Google, Yahoo, or even Bing can give you a lot of information about the company you are looking to service your garage door. This information will include contact information, reviews, the company's website, and address.
4. Check With the Better Business Bureau
If you're investing a significant amount in a new garage door installation (or an extensive garage door repair), it may be worth a call to the Better Business Bureau first. This is also true if you've already noticed some potential red flags regarding the company that you're considering working with. A few red flags include:
Being approached by the company rather than the other way around: If someone shows up at your door and tells you that they noticed something wrong with your garage door and would like to take a look at it, it's a better idea to get a second opinion first.
Poor reviews or no reviews: A company that doesn't have a good reputation may frequently change its name so that it can't be looked up. Make sure that you get the company's legal name so that you can review any potential issues.
Asking for payment before the job is completed or asking for payment in cash: A reputable company will allow you to see the result before payment is made. If it's a more expensive service, such as a new garage door installation, they may ask for a small deposit.
The Better Business Bureau will be able to tell you whether or not there are any complaints filed against the business. Keep in mind that larger companies, such as national chains, may have complaints filed against them that have not yet been resolved but aren't necessarily valid. Smaller companies, on the other hand, usually shouldn't have any complaints levied against them.
5. Don't Commit To Any Company Right Away
In any sales environment, if you feel pressured, it's usually best to make a decision later. For the most part, most garage door repairs do not need to be done at precisely that moment (unless, of course, it's become a safety hazard.) Ask for some time to make your decision and to get a few quotes – any reputable garage door repair service will understand. If the salesperson or technician pressures you to commit, you should consider it a significant red flag.
At Action Garage Door, our talented and experienced team members are dedicated to giving you only the best in customer service. We have skilled professionals available for consultations and quotes regarding your garage door repairs, installations, and maintenance. We understand the importance of working with a garage door company that you trust. Contact us today and let us open doors for you.