Spring Cleaning: Garage Organization & Safety Tips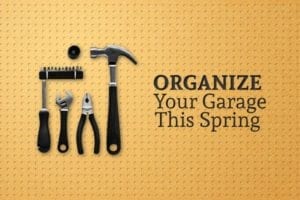 Spring is the season of new beginnings, and most of us start this journey by ensuring that our house is in order. From dusting off the cobwebs on our bookshelves to mopping the floors to make them shine, spring cleaning is a widely known idea. However, one area of the home that most individuals tend to ignore is the garage.
Garages are so much more than storage spaces for valuables or homes for your vehicles. For most homeowners, the garage has become the primary entrance to their home. You want your garage to be well-organized to prevent tripping hazards, keep critters away, and protect your garage's most valuable asset, the garage door. It may seem overwhelming at first but the team of garage door repair specialists at Action Garage Door has put together these tips to help! Here are some steps on how to best organize your garage and some additional safety tips:
Step 1: Sort Out Your Garage's Storage Items
According to a study done by the Sightline Institute, one in three homes in the United States do not house their car in their garage. The reason is that the garage is just too full of stuff to fit their car in it.
While some valuables are important to keep, such as family heirlooms or frequently used sports equipment or tools, some items may not have been thought about since they were stored in the garage. If this sounds like your situation, here is how you can remedy this problem.
Set aside a day or a weekend to go through your entire garage: Depending on how much stuff your garage houses, the amount of time you dedicate to this task will vary.

Make sure your entire family is pitching in to ensure that everyone has a say in what is being saved, tossed, or donated: Not only will having help make the task go by faster but it also ensures that important items are not accidentally thrown away.

Make sure you go through everything, including boxes you never unpacked when you moved in: Sometimes precious family heirlooms may be hidden in these, or items you forgot you had that can be donated or thrown out.
As you go through your belongings, you will want to separate them into four piles: keep, donate, sell, and toss. Use designated areas to keep these piles organized and once an item is placed in a pile, do not go back and move it. Doing so will usually lead to individuals keeping items that they don't need.
With items that you want to keep, make sure you place them into marked containers, such as cardboard boxes or plastic storage containers. You can place these items back into the garage. Take donations to your local Goodwill or any other areas that will take your gently used items or schedule a yard sale. Take your tossed items to the dump or follow the proper disposal procedures for expired chemicals.
Action Garage Door Tips: Knowing What Should Donate or Sell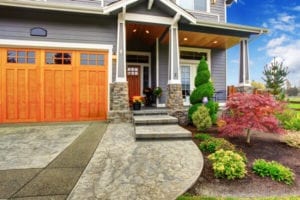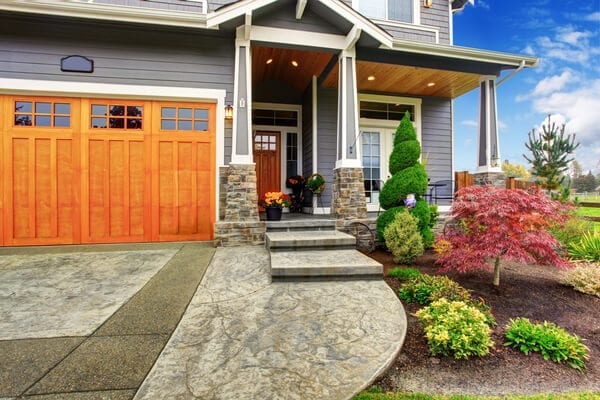 A lot of individuals struggle with knowing what items they can safely sell, donate, or toss. Our team has a list of items that can help you make the best decision for your family's needs:
Outgrown toys
Items that are broken
Expired cleaning chemicals
Old clothing that you haven't worn in the last year
Decorations you do not touch anymore
Any items that you haven't used in the last two years
Are There Items That Shouldn't Be Stored in a Garage?
Yes! For safety reasons, these items should never be stored in your garage:
Paint: Extreme cold or hot temperatures can ruin the paint or cause cracks in the can.

Propane: A spark could ignite the fumes and cause the propane tank to explode.

Paper Goods: Paper products are a magnet for critters such as roaches and mice. They make for a good snack or bedding for these animals.

Pet Food: As with paper products, smaller animals such as possums, mice, and rats will be attracted to your pet's food. It should be kept in a sealed container inside your home to ensure that these animals don't move in.

Pool and Spa Chemicals: The oxidizers and strong acids corrode metal, which is why these chemicals should never be stored in your garage. If it were to accidentally spill or leak out of the container it is stored in, then it could corrode and eat away at your garage door or other metal materials in your garage.
Step 2: Put Your Keep Items Back in the Garage
When putting your items back in your garage, you will want to follow these important tips to make organization and access to these items easier:
Items that are often used together, such as lawn care and gardening tools should be stored close to one another

Bulky objects, such as lawnmowers, should be stored in corners where they are less likely to get bumped by a car

Frequently used items, such as a bike, should be stored closer to the garage door

Seasonal items or rarely used keepsakes should be kept in hard-to-reach areas, such as on the top shelf.

Sharp objects, such as power tools, nails, screws, and saws should be kept out of reach of children and pets.

Chemicals, such as fertilizers or oil for cars, should be kept in areas where children cannot access them. They should also be kept in their original containers to avoid confusion as to what chemical you are using.
Step 3: Perform a Garage Door Safety Test
Another area of your garage that is going to need your attention is your garage door. A garage door safety check should be done at least once a month to ensure that it is running properly.
This safety test should be started by testing the garage door's balance. Adjust the release mechanism on your garage door opener to allow you to operate the door by hand. Look for resistance when you manually lift the door. Once opened, wait to see if it starts to close. If it cannot stay open on its own, schedule a tune-up with your trusted garage door technicians.
To test the reversing feature, place a 2×4 inch block of wood flat on the floor. It should be located near the center of the garage door. Activate the transmitter to close the door. When it strikes the wood block the door should reverse. If it fails to reverse, contact your trusted garage door repair specialist for a consultation. Your faulty reversing system may warrant a repair or full replacement.
If the reverse feature works, then test the garage door once more. This time, without the wood block. Listen carefully for signs of creaks or groans. These could be signs that your garage door is experiencing trouble.
Step 4: Find a Safe Place for Your Garage Door Opener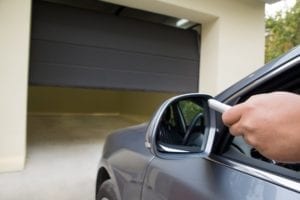 If you're anything like the average homeowner, your garage door opener doesn't have a designated spot. It generally sits wherever you place it when you return home from a long day at work. This is a recipe for disaster. Not only do you risk losing it, but you may also place younger children at risk, as they often mistake the garage door remote for a toy. Find a secure place to store this essential item, one where you can commit to returning it and remembering where it is.
Garage Door Maintenance and Repair Services You Can Trust
At Action Garage Door Repair Specialists, we do all we can to ensure that your garage door is running smoothly and safely. We are committed to providing unparalleled customer service and know how to spot problems before they even happen. We take precautionary measures to reinforce your garage door against common issues and help extend its lifespan. Contact our team today for more information on our services or to schedule your garage door maintenance or repair services.