Garage Door Repair in University Park, TX
An old garage door can compromise the integrity of the entire garage, but with proper garage door repair in University Park, you won't have to worry about that. At Action Garage Doors, we offer garage door service in University Park to take care of anything you are concerned about.
When you want the best in garage door repair and other services, you have to turn to the best. For years, we have been providing residents all over University Park with the garage door service they need to have their garages in the best working order.
As a garage door repair company that is committed to customer satisfaction, nobody beats Action Garage Door. Our family-owned business has been satisfying customers for 40 years and we are waiting to help you find the services you need for your garage door in University Park. We'll pull whatever permits may be necessary and provide you with a door that can take whatever the weather can dish out.
 Garage Door Services in University Park
At Action Garage Door, we understand you have many needs when it comes to garage door service. For this reason, our garage door service goes way beyond simple repairs. These are just some of the services that we offer:
New Garage Doors Installation
No two home or business owners are alike, and our garage door repair company understands that no two will want the exact same garage doors and set up. At Action Garage Door, we offer a variety of garage doors for installation in University Park homes and offices. Some of our options include, Carriage House garage doors, Olympus garage doors, Classica garage doors, and Amarr commercial overhead garage doors.
In addition to the types of doors we install, we have a tool that helps you create a custom garage door so you can get the door that goes perfectly with your home or office. Whether you want to match the exterior just perfectly, or if you are picky about windows, a fully customized garage door is just around the corner.
Contact Us Today
To get started with your garage door repair, installation, or replacement, contact Action Garage Door in University Park today and let's talk about the options available from the garage door repair company that has been caring for customers since 1984.
If you live in University Park, Action Garage Door Repair can be at your door whenever you need us to replace a spring, adjust a roller, eliminate a squeak, realign a sensor, or replace an automatic opener. If the door has fallen off its track or fallen apart, we can also repair it or replace it — whatever you need. Whenever you have a problem, trust us to handle it quickly, economically and professionally. Action will exceed your expectations.
Living in University Park, Texas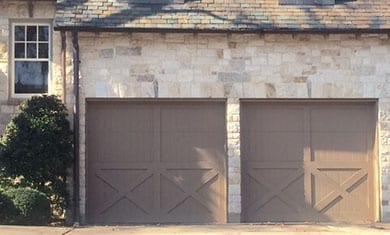 Just like its smaller "sister," Highland Park, University Park is equally pleasant and suitable for families, retirees, business leaders and professors. But it is the students that give it a somewhat more energetic vibe, and a more relaxed feel. The college population of the dorms, condos, cottages and apartments near campus bring a youthful spirit and their existence brings casual eateries, pubs, coffee shops, bookstores and quirky shops to town as well. The population of University Park in 2013 was nearly 24,000.
History of University Park, TX
University Park is so-named for its initial development in the early 1900s, as a small housing community that surrounded the Southern Methodist University. These homes were designed to provide for student living, and the University Park area continued to grow as the university did. University Park initially attempted annexation with both Highland Park and Dallas, but after refusal began to develop its own town.
University Park is still closely associated with Highland Park but is distinct in culture and community. The area is presently populated by a total of 23,000 individuals with a high median income. University Park is currently considered to be #7 on the list of most affluent neighborhoods in the United States. It's still home to the Southern Methodist University and the Dallas County Community College District, and it's served by numerous parks and recreational options, such as the Burleson Park and the Holmes Aquatic Center. Today, University Park is home to many extraordinary luxury and historic homes and new developments. Its population has remained relatively high as properties come to market fairly rarely.
Things to do in University Park
University Park is a fun place to spend time, whether you're 18 or 80. Although it is a distinct municipality with its own government, University Park shares a school district with Highland Park. Median price is just under $1 million for a home in University Park, skewed by the greater number of smaller cottages and condos that university students love.
Median income, however, of owner-occupied homes is $232,672, slightly higher than for Highland Park. The cost of living index for the Park Cities is 213 or 214, based on a national average of 100. In both cities, median earnings for males approach four times as much as female earnings, and the earnings figures for Highland Park are nearly double those of University Park.
Major north-south thoroughfares that bound University Park are Central Expressway and the Dallas North Tollway, from Downtown Dallas to the far northern suburbs. Preston Road and Hillcrest Lane run on a north-south axis, with Mockingbird, Lovers Lane and Caruth Blvd. the primary east-west traffic lanes. They are filled with shops, offices, service businesses, and local eateries. Chip's on Lovers Lane is equally popular with students and retirees, and is crowded until late each evening! If you live in the Park Cities, you will most likely be going elsewhere for your evening entertainment, but that "elsewhere" is nearby and easy to get to.
The advantages of the Park Cities cannot be denied. So, if you have the ability to choose one of the "pearls" in the oyster that is the greater Dallas area, you won't go wrong with either one. Remember that, although residents use their city's distinctive names in order to give directions or be specific about location, for all practical purposes, residents of the Park Cities are simply residents of Big D, and as friendly as can be!
University Park Garage Door Service Area
Garage Door Repair in Nearby Cities:
Local Reviews
for University Park, TX
---
Vester G.
Garage door repair
Near

Lovers Ln,

University Park

,

TX

75225