Garage Door Repair in Richardson, TX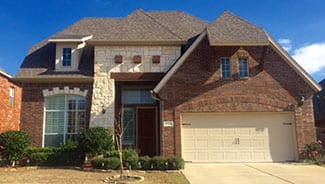 The professionals at Action Garage Door are standing by to provide you with the garage door service that you need in Richardson. When you want the best in garage door repair and other services, you have to turn to the best. For years, we have been providing residents all over Richardson with the garage door service they need to have their garages in the best working order.
We have been the premier garage door repair company in the Dallas-Fort Worth Metroplex since 1982 and serve residential and commercial customers in surrounding suburbs as well. Known for reliable service and personal attention, we offer low competitive prices and fully certified technicians who have all passed stringent 20-year background checks.
Whether you need quick repair services for an existing garage door or a new installation, Action Garage Door is the company to call. Our service technicians have the requisite experience to handle any repairs and are thoroughly trained and knowledgeable about our products. We represent only the finest garage door manufacturers, and we are equipped to service most brands.
As a garage door repair company that is committed to customer satisfaction, no one beats Action Garage Door. Our family-owned business has been satisfying customers for over 30 years and we will help you find the services you need for your garage door in Richardson. Not only is our work completely up to code, our products can handle all types of weather in Richardson.
Our Garage Door Services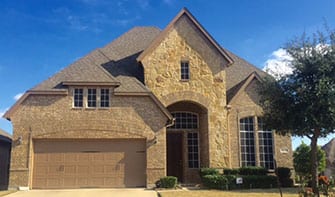 At Action Garage Door, we understand you have many needs when it comes to garage door service. For this reason, our garage door service goes way beyond simple repairs. Some of what we provide, for instance, includes cable repair, spring repair, fix track problems and we also repair garage door openers.
Types of Garage Doors We Install
No two home or business owners are alike, and our garage door repair company understands that no two will want the exact same garage doors and set up. At Action Garage Door, we offer a variety of garage doors for installation in Richardson homes and offices. Some of our options include Carriage House garage doors, Olympus garage doors, Classica garage doors, Stratford garage doors, Heritage garage doors, and Amarr overhead garage doors.
When it comes time for replacement garage doors, we will work with you to find the best solutions for both residential and commercial applications. Let us tell you about the relative merits of wood or steel doors and discuss your options for custom design.
Contact Us Today
To get started with your garage door repair, installation, or replacement, contact Action Garage Door in Richardson today and let's talk about the options available from the garage door repair company that has been caring for customers since 1984.
If you're trying to improve the appearance of your Richardson, TX home while still retaining its historical charm and appeal, you may want to consider the purchase of a new or custom garage door.
Custom garage doors come in a variety of styles and with new features such as insulation — and they are extremely affordable ways to change your home's look. You can also get your garage doors repaired and maintained as needed to ensure that your investment lasts a long time to come. Contact us at Action Garage Door for your garage door replacement and repair needs in Richardson, TX today.
About Richardson, TX
Home to over 5,000 businesses, Richardson, TX is a thriving economic center within the Dallas County. In addition to having affluent suburban neighborhoods within, Richardson, TX is also home to the University of Texas at Dallas, a public research facility and part of the University of Texas system is located on a 445-acre campus on the border between Richardson and Plano.
With a highly-rated graduate school, the university leans toward science and technology degrees and boasts nearly 1,000 Chinese students. Richardson was initially settled in the late 1800s and named after E.H. Richardson, a railroad conductor. The city swiftly grew following World War II, with the opening of Texas Instruments and the development of community amenities such as shopping centers and its own police department. By 2000, Richardson was home to nearly 100,000 residents and had expanded its educational system and rapid transit system substantially.
With all these accolades, it's understandable that property in this town is so sought after. MetroPCS, Verizon Business, AT&T, and Samsung Telecommunications all have headquarters in Richardson, joining such diverse companies as WingStop, Fossil, Inc., State Farm Insurance, Lennox International, Fujitsu Systems, Blue Cross Blue Shield of Texas, and Bank of America as major employers.
Richardson business is also oriented toward science and technology, with the headquarters of Texas Instruments on its southern boundary with Dallas, and numerous new high-tech firms now located in the city, particularly in the business corridor on the east side of Central Expressway, north of Campbell Road.
Living in Richardson, TX
Business Week has listed Richardson as one of the best places to raise children in the United States, and it has been named the 17th Best City To Live In by 24/7 Wall Street and ranked as one of the safest places to live in the state and the 18th best place to live in the nation by Money Magazine. Living in Richardson is much like living in a friendly small town. As an established "first tier" suburb with a population of about 100,000, Richardson is a family-oriented community with fine schools and city services. It is completely landlocked, bounded by Dallas to the south and west, by Garland on the east and by Plano to the north.
Although many of its single-family homes were constructed in the 1960s and 70s, there is a variety of housing styles and prices, including condominium and townhouse units, houses and apartments in gated communities, and homes situated along meandering creeks and on golf course lots.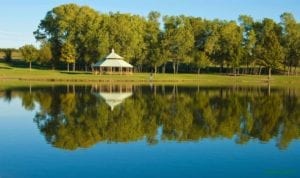 The city is cherished for its quiet, family-oriented lifestyle, but it is close enough to larger neighbors to be loved for those reasons as well. Addison, located about five miles to the west, it a prime shopping, dining and entertainment area, and neighboring Plano to the north is the premier business, shopping and entertainment destination of the north-of-Dallas area.
Characterized by broad thoroughfares, tall trees, meandering creeks, parks and green space, Richardson is one of the older "bedroom communities" near Dallas. It is conveniently located between two major highway loops – LBH Freeway (I635) to the south, and I190 to the north, and is bisected by Central Expressway (US75), a major route to downtown Dallas and north to Oklahoma. Although the private automobile is the preferred mode of transportation, Richardson also boasts a Dallas Area Rapid Transit station, much appreciated for access to downtown Dallas cultural and entertainment centers.
Richardson Attractions
City amenities include a civic center, library and government complex, recreation centers and a well-known municipal golf course. When the new city hall, civic center, and library opened in the 1980s, they were architecturally stunning and represented a major step into the future for a mid-sized suburban city. They continue to be unique and much appreciated by residents. The library, especially, has a large collection and offers many comprehensive services to the community.
The Eisemann Center for the Performing Arts is a venue for corporate meetings and events as well as live performances. A twice-yearly Art Festival at Cottonwood Park will mark its 47th year in 2017. It is a nationally recognized juried exhibition and sale, and it attracts thousands of visitors. Artists must apply early in order to show works and sell at the spring and fall shows.
Richardson TX Garage Door Service Area
Local Reviews
for Richardson, TX
Rated
5.0
out of 5 stars based on
94
customer reviews
Powered by Link Right Local
---
Satisfied customer
Jaquelyn

-

Richardson

,

TX



I called at the last minute because my door stopped working. They came within 2 hours. They were polite, thorough and efficient! Ask for JR. He was wonderful! Their pricing was excellent when compared to other companies. I will always call them in the future. They have the best customer service!
---
Cwm
Charles

-

Richardson

,

TX



Pretty damn good service. Fairly prompt, no B.S., fast work. Gave me a quote, including prices and options in case there were more things wrong than we could tell. Turned out to be the least expensive repair. Approximately 1 1/2 hours later, they were done. Everything was fixed and works fine. I recommend them.
---
Garage repair
Brandon

-

Richardson

,

TX



---
Excellent Service and Knowledgeable Technician
William

-

Richardson

,

TX



---
Great service tech
Parker

-

Richardson

,

TX



Have been an Action customer since 1998. Never fun time when springs break but Action is always out quickly and you feel that the door is fixed right. The tech was professional and very informative about my door and proper maintance. Thanks for great service.
---
Nice, easy, painless same day repair!
Cameron

-

Richardson

,

TX



David did a nice job repairing my springs and not over recommending other things to replace. In and out and done in no time at all!
---
Great Service
Fitzpatrick

-

Richardson

,

TX



---
Knowledgeable
Chris

-

Richardson

,

TX



They know what they are doing and very transparent on discussing maintenance.
---
Happy
Sherry

-

Richardson

,

TX



While my tech was here I had him do some upgrades to the garage door. Very glad I did he gave me a big discount.
---
Prompt and as promised.
AK

-

Richardson

,

TX



Came home after a long rough day and garage door would not open. I called Action Door. They've helped me before. Chris told me Jake would be to my house in 30 to 60 minutes and he was. Jake jumped in right away and knew just what to do and did it quickly. He went the extra mile and sprayed garage door lubricant on the hinges and rollers . I paid the price I was quoted and a long tough day suddenly became a pleasant experience.
---
Rogelio G.
Garage door repair.
Near
Richardson Dr,

Richardson

,

TX

75080
Rogelio G.
Cable off on garage door.
Near
E Arapaho Rd,

Richardson

,

TX

75081
Rogelio G.
Replaced broken springs on garage door and installed new rollers.
Near
S Lois Ln,

Richardson

,

TX

75081
Rogelio G.
New garage door opener installation.
Near
Canyon Creek Dr,

Richardson

,

TX

75080
Rogelio G.
Replaced broken springs on garage door
Near
Apache Dr,

Richardson

,

TX

75080
David V.
Garage Door Repair, Replaced New Springs
Near
E Prairie Creek Dr,

Richardson

,

TX

75080
Jake S.
Installed new garage opener
Near
Warm Springs Ln,

Richardson

,

TX

75082
Alf D.
New Springs Installed Under Warranty. New 16' Torsion Tube Installed. Service Door
Near
Briarcrest Ct,

Richardson

,

TX

75081
Rogelio G.
Garage door repair.
Near
Worcester Way,

Richardson

,

TX

75080
David V.
Garage Door Repair, Replaced New Springs and Center Bearing as well as Applied a Tune up
Near
Maryland Dr,

Richardson

,

TX

75080
We Also Offer Garage Door Repair Services in These Nearby Cities: