Garage Door Repair in Highland Park, TX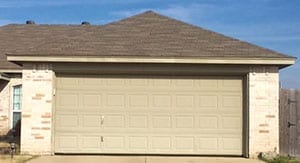 Whether you need garage door repair in Highland Park or a different garage door service in Highland Park, turn to the professionals at Action Garage Doors. We've got you covered. For years, we have been providing residents all over Dallas-Fort Worth with the garage door service they need to have their garages in the best working order.
As a garage door repair company that is committed to customer satisfaction, nobody beats Action Garage Door. Our family-owned business has been satisfying customers for 40 years and we are waiting to help you find the services you need for your garage door in Highland Park. Our doors will stand up to the weather and all of our work is performed in compliance with all local regulations.
Garage Door Services in Highland Park
At Action Garage Door, we understand you have many needs when it comes to garage door service. For this reason, our garage door service goes way beyond simple repairs. Some of our services include residential garage door and commercial garage door installation, and garage door maintenance.
New Garage Doors Installation
No two home or business owners are alike, and our garage door repair company understands that no two will want the exact same garage doors and set up. At Action Garage Door, we offer a variety of garage doors for installation in Highland Park homes and offices. Some of our options include Carriage House Garage Doors, Olympus Garage Doors, Classica Garage Doors, Heritage Garage Doors, and Amarr Garage Doors.
In addition to the types of doors we install, we have a tool that helps you create a custom garage door so you can get the door that goes perfectly with your home or office. Whether you want to match the exterior just perfectly, or if you are picky about windows, a fully customized garage door is just around the corner.
Contact Us Today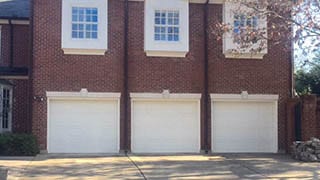 To get started with your garage door repair, installation, or replacement, contact Action Garage Door in Highland Park today and let's talk about the options available from the garage door repair company that has been caring for customers since 1984.
Action Garage Door Repair services residents of the Park Cities with fast response times and impeccable service, whether the need calls for only minor adjustments or major repairs and replacement. We know how disconcerting it can be when a garage door does not act properly. Count on the Action team to solve any problem you might encounter. One call does it all.
Living in Highland Park, Texas
A kind of legend, Highland Park is an enclave of exclusive addresses and elegant homes situated just five miles from the heart of downtown Dallas and completely encircled by the larger city. One of two such municipalities known as the Park Cities, this larger of the two is home not only to some of the area's most influential citizens but also to some of its finest homes. It also boasts an exemplary school system and the lowest tax rate in the Dallas-Fort Worth Metroplex. However, actual tax assessments are apt to be high because of the city's extremely high home values. The median price of a home in Highland Park is a whopping $1,605,500, more than 800 percent higher than the national average. Nearly 82 percent of the homes are owner-occupied. Highland Park population at the 2010 census was 8,564.
Working in Highland Park, TX
Leading a charmed life in Highland Park, if you can afford to live there, is not difficult. CEOs of numerous Fortune 500 companies, as well as local leaders of business and industry, call Highland Park home. The median household income for owner-occupied homes is more than $230,000.
A cozy town of fewer than 10,000 residents, Highland Park, TX is generally considered to be one of the most affluent communities in central Dallas County. Highland Park was first developed in the late 1800s by a group of investors from Pennsylvania, and it was originally known as the Philadelphia Place Land Association before being developed into Highland Park. An extraordinarily exclusive community, modern Highland Park owes much of its design to its original Moorish community, and much of the neighborhoods have a strong cultural and historical influence. Today the town is known for its historic zones and gorgeous landscaping, including a variety of parks and trails, and the Dallas Country Club.
The historic Highland Park Village, developed in the 1930s, was one of the first malls located in the United States. Highland Park is also known for being the location in which the beloved show Dallas was shot. Every year Highland Park holds its Highland Park Centennial Literary Festival and notable areas include the Highland Park Public Library and the Highland Park Town Hall. Those who want to replace their garage doors in Highland Park will undoubtedly want something that fits into their community and the history behind it. You can get started on your new garage door or your garage door repairs by contacting us now at Action Garage Door.
Things to do in Highland Park
Natural beauty is abundant: Turtle Creek winds through the area, and landscaped parks, as well as residential yards, lend natural beauty. Because the city is an older area, the trees are tall and neighborhoods are filled with people walking dogs and baby carriages as well as slow-moving cars. Primarily a residential area, Highland Park boasts a few trendy boutiques and upscale shops and a few offices, and residents are content to drive to other areas to shop, dine out and be amused. There are stately old apartment buildings, newer condominiums, and some smaller cottages along with large gated compounds with manicured grounds.
The local treasure is a massive 140-year-old Pecan tree that occupies a prominent place on Armstrong Parkway at Preston Road. It stands 75 feet tall with a spread of approximately 75 feet. The tree stands at the "entrance" to the city and is lighted every year at Christmas, a tradition since 1927, except during WWII and the 1973 energy crisis. You need to experience the traffic jams to believe them!
Highland Park – the Heart of Dallas
Highland Park's location near the heart of Dallas is perfect for busy families, working executives, and retirees. Close to legendary shopping, the entertainment, cultural, and business centers of Uptown and Downtown Dallas, and near Love Field, the home of Southwest Airlines, Southern Methodist University, and the George W. Bush Presidential Library and Museum, as well as Central Expressway and the Dallas North Tollway that whisks drivers northward, the city offers a great way to partake of all that is best in and about Dallas.
Living here is expensive, to be sure, but there are few comparable neighborhoods in the entire country. Because many of the homes are older, you'll want to find reliable repair companies if you choose to live here. The best way to do that is through referrals from neighbors and business associates. As an alternative, contact the Dallas Builders Association for a list of reputable tradespeople to work in Highland Park.
Garage Door Repair Service Area Highland Park, TX
Local Reviews
for Highland Park, TX
Action Garage Door Repair Specialists
Rated
5.0
out of 5 stars based on
1
customer reviews
---
Outstanding service man. Work on y'all's phone service
Lawrence

-

Highland Park

,

TX



Review of
Action Garage Door Repair Specialists
The service man Mr. Garcia was excellent
---
Garage Door Repair Surrounding Cities