Tips for Selecting a New Garage Door Opener
Garages are multifunctional spaces that can be used to satisfy almost any need. Whether your garage is used to house vehicles during inclement weather or as extra storage space, a secure garage door is essential for protection against the elements and intruders. Garage doors offer both security and aesthetic value. With so many available options for garage doors, there's no doubt you'll find the perfect one to match your home's style while also meeting your functional needs.
When choosing a garage door, make sure to also consider the type of garage door opener you have. If you are looking for a garage door opener replacement or looking to install a brand new door and system, the knowledgeable team at Action Garage Door Repair Systems has you covered. We put together this helpful guide of the nine most important factors to keep in mind when choosing your new garage door opener to ensure you end up with the best door for you.
1. Different Types of Garage Door Openers
Here's what you need to know about the different types of garage door openers:
Chain Drive
The most recognizable and commonly used garage door opener is the chain drive. Chain drives consist of a simple mechanism that provides high-powered and reliable service over an impressive lifespan. Chain drive openers use a metal chain to operate a trolley that raises and closes your garage door. Their low cost and high durability make them a popular choice with residential homeowners.
Belt Drive
Belt drives are composed of a flexible loop or rubber that is used to run two or more pulleys to open and close the garage door. The rubber belts that give this system its name transfers power from the crank or camshaft to the garage door. This allows it to open smoothly. These openers are the strongest on the market and come with a hefty warranty. Some manufacturers even offer a lifetime warranty.
Jack Shaft
The Jack Shaft is a computerized garage door opener system that contains automatic deadbolts. This is for spaces that do not have the head room for a ceiling mount opener.
2. Garage Door Material
Garage doors can be made out of aluminum, steel, wood, or a combination of fiberglass and PVC. When deciding which garage door opener to use, it is important to consider the durability, weight, and typical maintenance requirements. Some garage door openers are better suited for heavier garage doors while others are best for lighter garage doors.
3. Horsepower Rating
Always check the horsepower (HP) rating of your potential garage door opener before investing. Residential models should have a range from ½-1-½ horsepower motor depending on the weight of the garage door.
4. Noise Level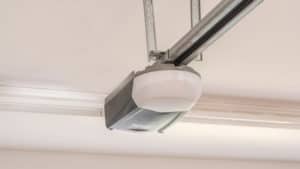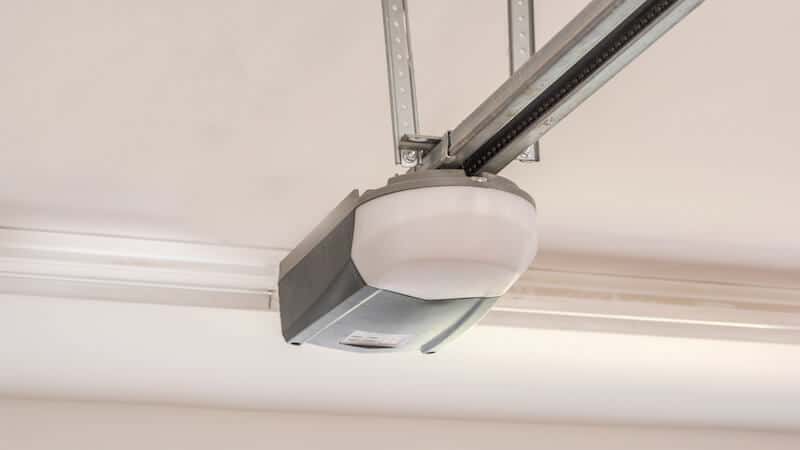 If you are living in a community where noise levels need to be kept at a minimum or have noise-sensitive family members, consider a belt drive. They are designed to be quiet which makes them the best choice to avoid ruffling feathers.
5. Safety and Security
Unfortunately, garage door accidents are more common than you think. It is important that your garage door opener has added safety features, such as rolling codes, infrared beams, and automatic reversing action sensors. These features can help keep you and your family safe!
6. Additional Features
If you are looking to get the most out of your new garage door opener, consider any additional features you may want. Some garage door openers have internet connectivity capabilities, making them compatible with your smartphone or a remote garage door opener. Others have rolling code security features and entrapment sensors to prevent garage door accidents.
7. Different Brands
If you are trying to figure out how to narrow down your options, consider comparing different brands of garage door openers. Some of them have room for additional features, while others just give you what you see at face value. Make sure you know which brands can meet your exact needs.
8. Budget
Your budget is the real decision-maker when it comes to which garage door opener you can get. Make sure to be open with our specialists concerning your financial situation before deciding on which garage door opener is right for you. Some garage door openers are more expensive than others, so knowing which one fits into your budget will save you a major headache.
9. Specialist Consultations
Garage door openers are a huge investment and a specialist can help you find the perfect one for your garage door. From Chamberlain to LiftMaster, Action Garage Door Repair Specialists can help you find and install the garage door opener that's right for you. Contact our team today for more information on our garage door openers or to get an estimate!