First 5 Things to Try When Your Garage Door Is Stuck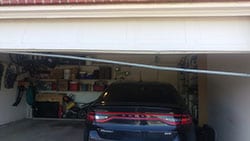 Many homeowners look for a garage when purchasing a home. Not only can a garage keep a car safe from damage due to inclement weather, but it can also give your home extra storage space. However, a garage can turn into your worst nightmare if it won't open. Luckily, the trusted garage door specialists at Action Garage Door have created a quick troubleshooting guide to help you get to the bottom of this problem if you ever encounter it.
1. Make Sure Your Garage Door Isn't Locked
A locked garage door won't budge no matter what you do. A lot of homeowners lock their garage doors to ensure the safety of their families and themselves. A locked garage door detracts intruders, keeps the door from accidentally opening and allowing pests in, and ensures that the valuables inside are kept safe from theft. With everything going on during the day, it can be easy to forget that you have locked your garage door. If this is the case, then simply unlocking it should solve this issue.
2. Try Manually Opening the Garage Door
If your garage door is unlocked and it still won't budge, you may have to try and open it manually. To do this, you will need to pull the red emergency release cable located overhead the front of the garage door. This should disengage the opener and allow you to lift and close the door by hand.
If the door does open after disengaging the garage door opener, then this signals that there is something wrong with the garage door opener. Make sure your garage door is firmly plugged into an outlet. If it is, check next to see if the circuit breaker isn't tripped. If you find that the circuit breaker is reading "off", then it means that there is an electrical issue. Leave it off and contact your trusted garage door technicians to come by and repair it.
3. Check Your Garage Door Remote's Batteries
If the garage door opener isn't the issue and your garage still won't open, you may want to check the remote batteries. While they typically do last a good while, they will eventually run out of juice and need to be replaced. When the batteries to your garage door opener remote die, it makes it almost impossible to open the garage door from the comfort of your vehicle.
Thankfully, it is a fairly easy fix to replace the battery. Simply follow the instructions for the remote and make sure you buy the right replacement. If you are unsure of how to go about the change, you can bring it into your nearest battery store and they can help you install one.
4. Check the Garage Door Track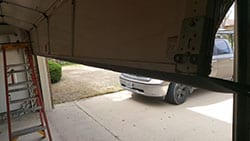 If you are still having trouble getting your garage door open, the next place to check is the tracks. You will want to keep an eye out for dirt and debris buildup, as well as chuncks of old lubricant. These obstructions can prevent the rollers from traveling smoothly along the tracks.
Next, you will want to inspect for dents, bumps, or warping. If the track appears damaged you can always contact your trusted garage door specialist. The team at Action Garage Door can help you replace your track or repair minor dents and warping.
5. Look for a Broken Garage Door Spring
A broken garage door spring can leave your garage door stuck. Simply look for the spring above the top or the sides of your garage door. If the spring appears to sag on its torsion bar or safety cable with a gap in the middle or the spring, then it's likely broken.
Never try to replace the garage door spring yourself. Instead, you should leave that to trusted garage door technicians. Messing with the springs can lead to serious injury and/or your garage door breaking down even further.
Need Help Getting Your Garage Door Back to Working Order?
If your garage door refuses to budge and you are not sure how to get it back into working order, you can trust that the team at Action Garage Door Repair Specialists will be there to help. Our team has been faithfully serving the Dallas/Fort Worth area for 37 years. We offer quick reliable service so that you can focus on your day and not your stuck garage door. Contact our team today for all of your garage door maintenance, repair, and new installation needs.