The Beauty of Wooden Garage Doors
Wooden garage doors are highly sought after as they are a beautiful crowning jewel for any home. They are highly versatile and can fit any style, whether modern or rustic. With so many stylized options, many individuals may be asking themselves if a wooden garage door is right for them.
The Garage Door Specialists at Action Garage Door Repair Specialists are dedicated to educating our clients, allowing them to make the best choice for their home's needs. As a leading provider across the DFW Metroplex, Austin, and Houston, Texas areas, our team thought it would be best to create a wooden garage door guide that shows the true beauty of wooden garage doors to help our clients make a decision. Here is what you need to know about wooden garage doors before you invest in one for your home.
What Are the Benefits of Wooden Garage Doors?
Wooden garage doors offer a unique elegance and timeless look that goes well with any style home. They boast a wide range of benefits that sets them apart from steel garage doors. Whether you are looking to replace an older set of garage doors or install new ones onto a new home build, you can expect these benefits when you choose a wooden garage door:
Variety of Design
Wooden garage doors are an excellent option for homeowners looking to elevate their homes with a sense of elegance and craftsmanship. With a wide variety of glass and paint options, homeowners can choose a look and style that matches the look they are going for on the exterior of their home. Whether a homeowner wants a minimalist style or a rustic barn feel, wooden garage doors can be customized to fit those needs. Additionally, the elegance it brings helps enhance the overall look, catching the eyes of those passing by and increasing the overall value of the home.
Incredible Durability
Wooden garage doors boast the incredible durability and long life span of the woods they were made of. They can easily handle minor scuffs and scratches, keeping the garage door looking brand new for longer. The flexibility of the wood allows them to hold up well over time, through continued use and withstanding dents better than their steel counterparts.
Frequently Asked Question: How Long Is the Lifespan of a Wooden Garage Door?
Wooden garage doors typically last around 15-30 years, depending on how well they are maintained.
Easier Replacement Options
Unlike steel garage doors that need to be replaced all at once, standard wooden garage doors are made from panels. These panels can be easily removed and replaced, meaning that if only one panel is damaged, you don't have to replace the whole door. This allows homeowners to save time and money while ensuring their garage door is always looking its best.
Incredible Energy Efficiency
Wooden garage doors are naturally well insulated, which better maintains the temperature in the garage. With less conditioned air escaping from your home, you can help save the amount of work your HVAC unit has to do, decreasing your energy costs and adding years to your HVAC unit. On top of that, the added insulation of the wooden garage door aids in muffling external sounds, keeping the interior of your home more peaceful.
Are There Any Cons to a Wooden Garage Door?
While wooden garage doors are known for their incredible beauty and impeccable value, there are some things that homeowners need to keep in mind. Consider these factors before you make your decision on a wooden garage door:
Requires More Maintenance
The average homeowner uses their garage door 1,500 times per year. This constant strain puts a lot of stress and pressure on your garage door, making it more prone to damage, and parts are more likely to wear down over time. Wooden garage doors must be checked regularly to ensure all panels, hinges, and sections are still strong. If there is any sign of damage, it is best to call in a garage door repair specialist as soon as possible to keep a small problem from turning into a disaster.
Higher Installation Costs
Wooden garage doors are a lot heavier than steel garage doors, making them harder to install. It is highly recommended that wooden garage doors are combined with an automatic garage door opener. The heavier weight makes them harder, and a bit more dangerous, to operate manually.
The higher difficulty in installation does lend to higher installation costs. Costs can also vary depending on the type of wood being used, the color of the paint/stain, and the thickness of your garage door.
What Types of Styles Does a Wooden Garage Door Come In?
Wooden garage doors are as unique as they are versatile in their styles, color, and design options. While the number of choices can seem overwhelming, our design team at Action Garage Door Repair Specialists is more than happy to sit down with you and go over the different options. Here are the different styles you have to choose from:
Traditional Wooden Garage Doors
Traditional raised-panel garage doors offer a classic style with sleek, clean lines. The raised panels create a symmetrical look that is sure to catch the eye of anyone passing by. These raised-panel garage doors come in short and long-panel options, allowing you to match the style and appearance you are looking for.
Modern Wooden Garage Doors
Contemporary or modern garage doors are perfect for homeowners who are looking for a sleek, clean-lined, and functional door to add to their home. Adding in glass windows can help elevate the look while letting in natural sunlight into your garage. These doors are the perfect way to add a fresh look to your home's exterior.
Carriage-House Wooden Garage Doors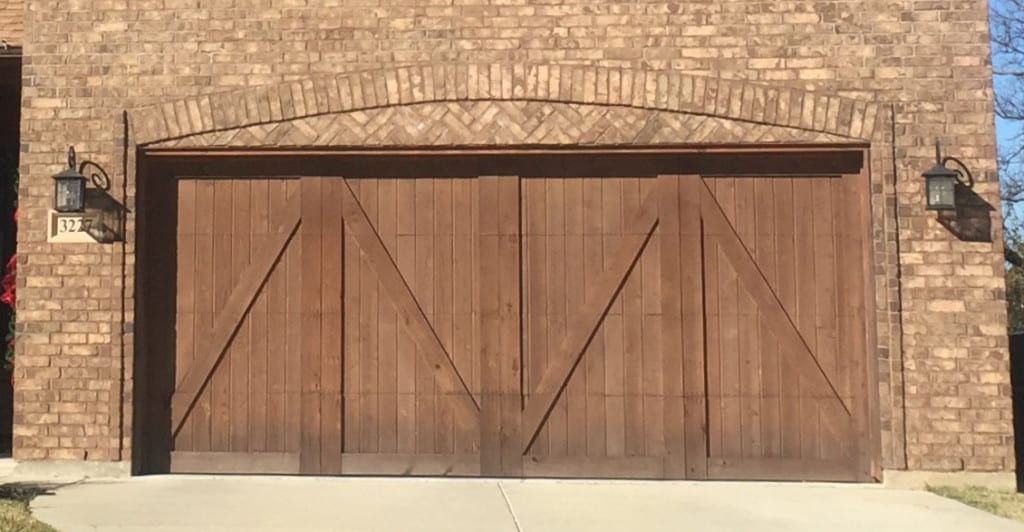 When most people think of carriage house garage doors, they often think of rustic barn-style doors. While they are often featured on modern farmhouses, carriage house garage doors can help give a unique appearance to modern homes as well, creating a nice balance between clean lines and a rustic design. 
Ready to Invest in Your New Wooden Garage Door?
Our team at Action Garage Door Repair Specialists is more than happy to help you find your perfect new garage door. Whether you are looking for a simplistic, eye-catching modern garage door or a rustic wooden carriage-house garage door, we have the right styles for you. Contact our team today for more information on our garage door services or to schedule an appointment with our team!