Prevent Break-Ins by Following Garage Door Security Tips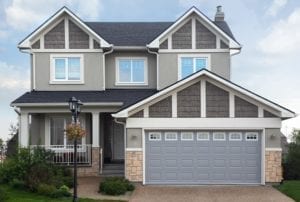 When an intruder breaks into your home, they steal a lot more than just your personal items. They rob you and your family of your sense of security and privacy, resulting in emotional stress that can be difficult to overcome. When it comes to protecting your home, many individuals focus on getting new locks installed on their doors or investing in security equipment. However, it is important for homeowners to remember that their garage needs to be reinforced as well. This article shows you some ways that you can prevent break-ins by following these garage door safety tips:
1. Never Leave Your Garage Door Open
Many individuals use their garage for more than just a storage area. Some individuals use it for a gathering space with items such as a pool table, dining room table, or a card table. With the ability to leave the garage door open to let in the gorgeous Texas sunshine or some fresh air, garages have developed multiple uses for many households. However, life gets busy and sometimes you can forget about securing this area. Always make sure your garage door is fully closed before you turn in for the night. Open garage doors are a welcome invitation for any intruder as they provide an easy opening into your home. If you are, admittedly, not very good at remembering to close the garage door, consider installing a garage door sensor or an automatic garage door closer. These sensors can send you information when your garage door is opened or closed. The automatic garage door closer takes an extra step by automatically closing your garage door when it is left open for a set amount of time.
2. Keep Your Garage Door Remote Hidden or On Your Person
It is a popular practice for individuals to leave their garage door remote clipped to the visor of their car or in an easily accessible location within their home. Unfortunately, intruders and thieves will be on the lookout for these remotes, as they are golden opportunities to get into your home. Instead of leaving the remote in your car, consider putting it on your keychain or leaving it inside of your home in a safe location that is not accessible to small children. If you are worried that you may accidentally lock yourself out of your house or garage, consider leaving a copy of your remote with a trusted neighbor.
3. Invest in Routine Maintenance Checks and Repairs
One of the worst things to happen for any homeowner is for their garage door to malfunction in a time of emergency, causing a security breach for their home. Garage doors need to be routinely checked to ensure that all hardware, such as the springs and opener, are working properly. Without these maintenance checks, your garage door may become damaged, resulting in it staying open, not opening when you need it to, or making it easier for an intruder to use the malfunction to their advantage.
Not sure who to rely on to ensure your garage door is receiving the best care to keep you and your family safe? Look no further. The experts at Action Garage Door Repair Specialists make your family's safety the top priority. This is why when we perform maintenance checks or installs, we never cut corners, providing thorough testing of your hardware and informing you about all your repair options. For our team, you are not just another client, you are family, and we will never hesitate to take action when your garage door's malfunction is putting your family at risk. Contact our team today for your garage door maintenance check or to learn more about our superior services.