Best Smart Garage Doors For Your Home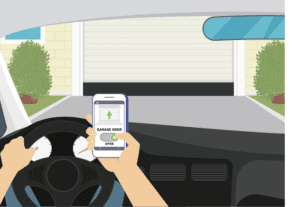 Automation is a popular feature among homeowners. From refrigerators that let you look inside while you shop to ovens with temperature controls on your phone, smart appliances are the future. And, they're not just inside your home. Outdoor features, like smart garage doors, offer additional controls, allowing you to open or close your doors with your phone or through sensors. Which smart garage door is best for you? Here are Action Garage Door's top two choices.

1.

Chamberlain MyQ Smart Garage Hub

Chamberlain MyQ Smart Garage Hub is a smart system that can be installed to a wide range of garage door openers. The MyQ Smart Garage Hub gives you the power to check the status of your garage door and open and close it from your smartphone. You can even control the lights within your garage. With no additional wires or hardware, it is relatively easy to install.
How Does the MyQ Smart Garage Hub Work?
MyQ Smart Garage Hub uses wifi along with the MyQ App, which gives you notifications about your garage door status and lights. The app also allows you to add up to three other phones, providing additional control to members of your family.
2. LiftMaster's 821LMB MyQ Smart Garage Hub
Much like Chamberlain's MyQ Smart Garage Hub, Liftmaster has 821LMB allows you to control your garage door through your smartphone. This device can be installed to almost any garage door opener (though it works best with Liftmaster). It gives you real-time updates about your garage door and the ability to schedule lights, giving you the ability to control your garage door no matter where you are. With the 821LMB MyQ smart garage Door Hub, you can also enable secure in-garage delivery with shipping companies.
How Does the 821LMB Work?
The 821LMB uses an app to control the garage door and set up your schedules. Coupled with the Amazon app, you download the Key for your package, and the two apps communicate, tracking your package, and opening the garage door when needed. As soon as the package is delivered, the garage door will get a notification and close, keeping your package safe and secure.
Additional Considerations for the 821LMB
This MyQ Smart garage Hub comes with a one-year warranty. It is also compatible with the following garage door openers that have been manufactured after 1993.
Chamberlain
LiftMaster
Craftsman
Genie
Need Help Setting Up Your Smart Garage Door or Garage Door Repairs?
The dedicated team at Action Garage Door Repair Specialists can help you repair your garage door or help you set up your new smart garage door technology. With our team, you will have access to the top of the line garage door professionals and can have the peace of mind that your garage door will not fail you. Whether you are looking for brand new door installation or repairs, our team can help! Contact Action Garage Door today for more information or to schedule a consultation.