How Can I Keep My Packages Safe from Theft?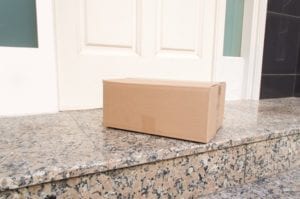 Business is booming for package delivery businesses, as more people are ordering items online and enjoying the convenience of not having to visit actual stores.
Amazon now even offers its Fresh Service in certain cities, where if you place an order, it arrives within two hours. How cool is that?
The answer is "very cool" as long as you're home to get the package. Because, unfortunately, porch-related theft is also increasing. It's a quick and easy crime, and could result in a nice return, especially if a parcel contains something valuable.
So homeowners want ways to make sure deliveries arrive safely. One option could be to have them delivered to another location, such as a workplace, a PO box, or a neighbor who is home. But all of these can get complicated, so the best option is to figure out a safe, secure spot at your home, preferably your garage.
Delivery Methods Continue to Advance
Technical delivery innovations continue to improve, which could include delivery by aerial or vehicular drones. Mercedes, for instance, is working on a Vision Van, which a driver takes to a street and then launches two aerial drones with packages for that street. He or she delivers some of the packages themselves, and then the drones deliver some as well. A company called Starship uses a robot to get packages from the van to people's porches. Homeowners can place an order, and then follow its progress until it reaches their door.
Though cool innovations with drone delivery services will likely increase in the next decade, humans are still the main ones doing the hustling these days. Whether the package is coming by human, drone, or robot, they require some instructions for a location and soon it could include inside your home. Smart home companies August and Garageio are working with Amazon to allow the courier one-time access to your home or garage, allowing them to leave the package inside via an access key.
Your Garage as a Safe Place for Package Delivery
Homeowners interested in using their garage for package storage can keep some items in mind:
Keep it well maintained. A garage door that isn't regularly tuned up may jam or not work when the deliveries arrive, creating further security concerns, including possible theft of not just your packages but other possessions. It's important that it be inspected annually, including the motion detectors, spring safety cables and other machinery.
Keep the door free of obstructions. If you want your garage to be the designated space for your delivery, make sure the door area is free of clutter and there's no risk to the delivery person of being injured or items falling on them as the door opens or closes.

Test it ahead of time. If you're expecting a certain package and have made arrangements for it to be delivered via the garage, try the door out to make sure the mechanisms will work safely for the delivery person or drone.
For more suggestions on making sure your garage and garage door are suitable for package delivery, visit Action Garage Door.