You Tune Up Your Car But Not Your Garage Door?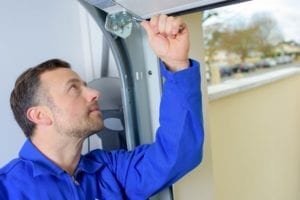 The garage door is one of the largest moving objects in a residential home. But it is often the most ignored feature until something breaks. The garage door mechanism is a complicated set of springs, cables and pulleys designed to let a small electric motor, or an average size person, to easily open and close the door. It requires trained professionals who know how to work on them safely to service them. But there are a few items that a homeowner can inspect themselves to make sure the garage door is working safely.
The Annual Inspection
It's a good idea to have the garage door inspected by a professional company at least once each year. There are a number of inspection items they will address. They will check to make sure that the springs, cables, pulleys and rollers work properly and repair anything that could potentially be a problem in the near future. They know how to work safely with the high tension springs that, if dealt with incorrectly, could cause serious injury. A yearly tune up of the garage door will keep it working smoothly and be safe for you and your family to operate.
Garage Door Safety Features
Each garage door comes installed with safety features to prevent damage to people and property should something malfunction. Between the inspections, a homeowner can test these features to make sure they are working properly. Any problems should be reported to the garage door service company for repair as soon as possible to keep the door safe.
Spring Safety Cables
If one of the high tension extension springs on a conventional garage door breaks or comes loose, it could cause serious injury to someone in the garage. Braided steel safety cables are installed with the extension springs to prevent this from happening. Check that each spring has a steel cable running through the center of it. Look at where the cable is connected at each end. If the cables are frayed or twisted or the connectors at the ends are bent, contact the garage door company to repair them.
Motion Sensors
Devices are installed to prevent the door from closing should something pass through the garage door opening as the door is coming down. Sensors on either side of the garage door opening should prevent the door from lowering if they detect something crossing the path. Test this by opening the garage door then closing it. As the door is going down, roll an object through the opening. The door should stop immediately and reverse. If it doesn't, have a garage door company come out as soon as possible to correct the problem.
Pressure Sensor
There is also a safety feature that causes the door to stop and reverse if something prevents it from closing. To test this feature, first open the garage door. Place a 2X4 in the garage door opening. Lower the garage door. It should stop and reverse as soon as it makes contact with the chair. If not, call the service company for help.
Contact Action Garage Door to schedule your next garage door inspection and tune up. Don't get stuck with a garage door that won't open or close or one that is unsafe for people and pets to be around.