Garage Door Repair in Pflugerville, TX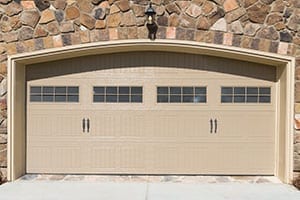 Action Garage Door has locations throughout Texas to serve residential and commercial customers with fast and reliable service. With trained technicians, all of whom have passed background checks, and fully stocked service vehicles, we are able to make quick work of most repairs. Our prompt and efficient service sets us apart from the competition and our guaranteed low prices assure customer satisfaction.
Whether you need minor repairs and adjustments to make your garage door operate quietly and efficiently, or you have major concerns about safety, we can help you decide on the best way to proceed. If a replacement door is recommended, we will help you select the best option for your individual needs, from a variety of styles, materials, and prices.
Why Choose Action Garage Door?
We have built our business over the past 30 years by being the best in the business and we stand ready to serve all the residents of Pflugerville and other suburbs around Austin.
At Action Garage Door, we understand you have many needs when it comes to garage door service. For this reason, our garage door service goes way beyond simple repairs. We can secure a loose spring, get your door back on its tracks, or provide any other garage door service need you may have.
When you want the best in garage door repair and other services, you have to turn to the best. For years, we have been providing residents all over Pflugerville with the garage door service they need to have their garages in the best working order. As a garage door repair company that is committed to customer satisfaction, nobody beats Action Garage Door. Our family-owned business has been satisfying customers for 30 years and we are waiting to help you find the services you need for your garage door in Pflugerville. We'll pull any permits that may be necessary, and our doors will last for years no matter what the weather conditions may be.
Garage Door Installation in Pflugerville, TX
No two home or business owners are alike, and our garage door repair company understands that no two will want the exact same garage doors and set up. At Action Garage Door, we offer a variety of garage doors for installation in Pflugerville homes and offices. Some of our options include, Carriage House, Olympus, Classica, and Amarr garage doors. In addition to the types of doors we install, we can help you create a custom garage door so you can get a door that goes perfectly with your home or office. Whether you want to match the exterior just perfectly, or if you are picky about windows, a fully customized garage door is just around the corner.
About Pflugerville, TX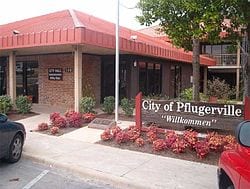 The town with the odd name is also a somewhat unusual suburb of Austin, in that it is the smallest of the well-known communities to the north of the capital. It has experienced a growth spurt in the years since 1990, but its development has been less meteoric than some of its neighbors, and aside from residential growth, the town remains a quiet bedroom community. The estimated population in 2015 was 57122, up to about 10,000 from the 2010 census. Pflugerville is known as an affluent suburban community, with highly-rated schools, abundant amenities, and a reasonable cost of living.
Although median home prices are higher than the Texas norm, they are lower than the national average and comparable to or slightly lower than neighboring communities in the area north of Austin. The median list price per square foot for homes in Pflugerville is $115 compared to $151 within the Austin city limits. The median price of homes for sale in the suburb is almost $263,000. However, the cost of living index for Pflugerville is 96 on the national scale of 100, while the Texas average is 97.
Pflugerville is located approximately primarily in Travis County, north of Austin, with a small portion extending into Williamson County. The Pflugerville Independent School District extends to six different municipalities, including parts of Austin and Round Rock, Hutto, Coupland, and Manor. The district enrolls more than 23,500 students in three high schools, two alternative campuses, 19 elementary schools and six middle schools.
Pflugerville History & Growth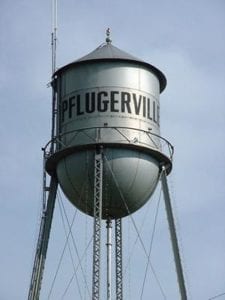 Although its history as a community extends back to 1860, Pflugerville was not incorporated as a municipality until 1965 and celebrated its 50th anniversary in 2015.
Development in the area between 1980 and 1988 put the city on the map, so to speak, and the population nearly quadrupled in the decade between 1990 and 2000.
Development and growth have been spotty in the city, but a recently formed economic development corporation, with new efforts to attract new business to the area, expand the tax base, and fuel growth, is seeing some response. The opening of a portion of the new tollway, Highway 130 spurred the development of the 130 Commerce Center, and the opening of two hotels and a conference center is anticipated. A major water park in the area experienced financial difficulties and its future existence is in jeopardy.
Local Attractions in Pflugerville
Pflugerville, originally settled by German immigrants, boasts an extensive park and trail system within the city limits, some of it developed with amenities that include pavilions, gazebos, and playgrounds, and some left in a more natural state. Deutschen Pfest is an annual German festival held in Pfluger Park in May. The park also includes the Fallen Warrior Memorial, along with trails and picnic areas, and volleyball and basketball courts.
A 180-acre reservoir, Lake Pflugerville, not only provides drinking water for local residents but is also a recreation destination, open for fishing, canoeing, kayaking,
and swimming. The city also has land for a new community park that is planned to include a sports complex and a new nature area.
Service Areas Near Pflugerville
Contact Us Today
To get started with your garage door repair, installation, or replacement, contact Action Garage Door in Pflugerville today, and let's talk about the options available from the garage door repair company that has been caring for customers since 1984.
Serving Pflugerville, TX for Garage Door Needs
Local Reviews
for Pflugerville, Tx
Action Garage Door Repair Specialists
Rated
4.9
out of 5 stars based on
48
customer reviews
---
Excellent service
Dennis

-

Pflugerville

,

TX

78660



Review of
Action Garage Door Repair Specialists
---
Excellent service for garage door repair.
Laurie

-

Pflugerville

,

TX

78660



Review of
Action Garage Door Repair Specialists
My service technician was punctual, informative, and did the repair quickly and economically. I would highly recommend Action Garage Door Repair for garage door repairs.
---
very friendly and prompt
Ray

-

Pflugerville

,

TX

78660



Review of
Action Garage Door Repair Specialists
I liked the man
---
Work is incomplete. Camera isn't connected
Ethel

-

Pflugerville

,

TX

78660



Review of
Action Garage Door Repair Specialists
Technician was friendly but in a rush to leave.
---
Good yes
Jacob

-

Pflugerville

,

TX

78660



Review of
Action Garage Door Repair Specialists
---
Great Service
Maribel

-

Pflugerville

,

TX

78660



Review of
Action Garage Door Repair Specialists
Action garage replaced coils in my garage at a fair price. A few months later I reached out to them for another issue and they offered me a variety of solutions. Thank you for giving me options and not pressuring me to select the highest cost option!
---
Action G.
Tune up
Near

Settlers Valley Dr,

Pflugerville

,

TX

78660
Action G.
Operator bracket adjustment
Near

Coronation Way,

Pflugerville

,

TX

78660
Action G.
Reset traveler
Near

Dove Haven Dr,

Pflugerville

,

TX

78660
Action G.
Springs
Near

Gavin Trail,

Pflugerville

,

TX

78660
Action G.
New battery back up
Near

Dr,

Pflugerville

,

TX

78660
Action G.
Torq Master
Near

Jana Patrice Dr,

Pflugerville

,

TX

78660
Action G.
3rd Party opener installation
Near

Moorlynch Ave,

Pflugerville

,

TX

78660
Action G.
New garage door opener install
Near

Moorlynch Ave,

Pflugerville

,

TX

78660
Action G.
Keypad and tune up
Near

Sage Boot Dr,

Pflugerville

,

TX

78660
Action G.
Springs
Near

Broken Feather Trail,

Pflugerville

,

TX

78660