Partnering With Whitmoore Homes to Create a Gorgeous Passive House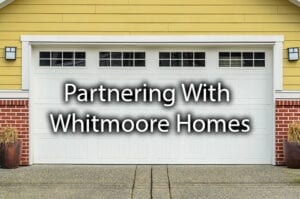 Action Garage Door is proud to partner up with Whitmoore Custom Homes on its latest residential construction project in the Dallas-Fort Worth Metroplex. This project was designed to create budget-conscious passive homes to meet the demands of the North Texas environment and weather. The estate-sized project is located on the beautiful shores of Lake Ray Hubbard near Dallas. Here is more information on this incredible project!
Built with the Homeowner in Mind
Homes are a huge lifelong investment. From the initial build to utilities and maintenance, your new home will continue to accrue costs over your lifetime. Whitmoore Custom Homes, alongside Action Garage Door Repair Specialists, and other construction industry-leading suppliers and contractors, put thoughtful planning into how to create a home that would yield immediate and long-term savings cost.
Passive Homes
Passive House has become a new global standard for energy efficiency in the residential and commercial construction fields. This new standard was created to help reduce the ecological footprint by creating an ultra-low energy home or building that can substantially reduce heating and cooling costs. Passive homes have the potential to reduce 80% of the heating and cooling requirements inside of a home. This can lead to a 70% decrease in overall energy usage of the home.
Action Garage Door's Part in Ensuring Energy-Efficiency and Reliability
Action Garage Door understands that energy costs are on the rise due to an increase in population. This is why we only use the best materials in the garage door industry to ensure that your home is protected while also being insulated. This helps control the temperature inside the garage and home. For this project, we used an insulated garage door, which is perfect for keeping the elements outside and the cool air inside. Our insulated garage doors help homeowners save up to 20% annually on their energy costs by helping to keep the air inside of the garage comfortable.
Alongside the savings in energy costs, the garage door on the Whitmoore Custom Homes project was built to last! The insulation in the garage door adds extra padding making it even stronger than the standard garage door.
Making the World Greener One Garage Door at a Time
Action Garage Door Repair Specialists are dedicated to strengthening our community and world, one garage door at a time. We believe that every homeowner should be able to have the home of their dreams while feeling both safe and happy with their choices. This is why Action Garage Door works hard to surpass our clients' expectations and keep their garage doors running smoothly by offering routine maintenance. Our maintenance keeps your garage door strong and healthy, helping you avoid costly repairs. Contact our team today to find out more about this project or for an estimate on our insulated garage door installation. We never back down from a challenge, especially when the solution could mean creating a better world and future for the next generation.