Garage Door Repair McKinney TX
Whether you are a homeowner or a business owner, McKinney Tx garage door repair is often needed. At Action Garage Doors, we have what you are looking for in garage door repair in McKinney. When you want the best in garage door repair and other services, you have to turn to the best. For years, we have been providing residents all over McKinney with the garage door service they need to have their garages in the best working order.
As a garage door repair company that is committed to customer satisfaction, nobody beats Action Garage Door. Our family-owned business has been satisfying customers for 30 years and we are waiting to help you find the services you need for your garage door in McKinney.
Garage Door Installation in McKinney
At Action Garage Door, we understand you have many needs when it comes to garage door service. For this reason, our garage door service goes way beyond simple repairs. Some of our services include residential and commercial garage door installation, and garage door maintenance.
No two home or business owners are alike, and our garage door repair company understands that no two will want the exact same garage doors and set up. At Action Garage Door, we offer a variety of garage doors for installation in McKinney homes and offices. Some of our options include Carriage House garage doors, Olympus garage doors, Classica garage doors , Stratford and Heritage garage doors, and Amarr garage doors.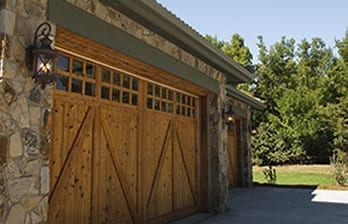 Action Garage Door, with the ability to serve both new construction and older homes and businesses in the McKinney area, is an established firm that offers expedient service to customers who need fast, reliable garage door repairs. With 30 years of experience and a commitment to excellence, Action is the company to call when a cable breaks, your garage door slides off its track, or your teenage driver leaves his "mark" on a door panel.Whatever your needs may be, whether for a part, a replacement opener, minor adjustment, or a whole new door, our service technicians will respond quickly and efficiently. We service or replace both residential and commercial garage doors, and we do it all with low, competitive pricing and guaranteed performance. In addition, our personnel are background checked, insured and fully trained.
When you live in McKinney, you can be sure that you are in our service area – we offer 24-hour emergency response, and schedule priority appointments free of charge Monday through Saturday. Add our number to your contact list, or bookmark our website. We'll be available when you need us!
About McKinney, TX
McKinney was once the quintessential Texas town, with a central square surrounded by two-story buildings that included retail stores, small eateries and at least one large and imposing bank. The square's County Courthouse was and still is, surrounded by green lawn. It was the place where residents gathered to share coffee and gossip, for commerce and for fun. In the summer, there were band concerts and kids on bicycles, and at Christmas, the trees, light poles and buildings were festooned with garlands and the square took on a celebratory air.
McKinney's downtown square still exists, and on the streets that radiate out from the center there are still fine old homes, some imposing two-story brick residences, others simpler clapboard, perhaps with cypress shingles. McKinney has a distinguished past. In its early years, the city was a regional center of culture and agribusiness. In a former century, McKinney was probably as well-known as Dallas, some 37 miles to the south.
As Dallas grew northward, the city was considered a quiet alternative to the urban lifestyle. When Plano, just to the south, experienced its meteoric growth spurt beginning in the mid-1980s, it seemed inevitable that McKinney would also be "discovered." Between 1990 and 2000, the population more than doubled, reaching more than 54,000. By 2010, there were over 131,000 residents, and today, the population estimate is just over 160,000. McKinney is definitely "on the map" as a cosmopolitan community, one of the fastest-growing cities in the country.
McKinney Attractions
Today, McKinney seems to have regained its importance as a vibrant center for commerce with a pleasant lifestyle.
The city still pays homage to its farming past, with a thriving Farmer's Market that attracts patrons from throughout the area. Two locations feature local produce, meats, cheeses, wines and craft items. McKinney Trade Days held the weekend of the First Monday of each month, is an outdoor flea market that carries on a tradition that began in the 1870s. Buyers and sellers come from the entire North Texas region to take part.
McKinney also celebrates its history daily with a lively, a rejuvenated downtown square. Some fine Victorian-style mansions still exist in McKinney, offering a glimpse of what life was like at the beginning of the last century. In addition, there are tree-lined city blocks of homes built between 1900 and 1960, sprawling newer subdivisions, golf course communities, planned developments, business parks and special-interest residential enclaves.
Craig Ranch, a McKinney master-planned community, has gained national attention with its mix of amenities and high-tech modernism. The Cooper Fitness Center, affiliated with the acclaimed Cooper Center of Dallas, puts the focus on healthy exercise. A pro golf course, playing fields for youth and high school athletics, open space and walking paths encourage activity and enhance the lifestyle. Housing options range from estate-size lots to condominium units, and the location is convenient to business, shopping, transportation, healthcare facilities and the entire DFW Metroplex. There are also two "adult" communities: The Retreat at Craig Ranch will have 300 homes priced in the $400,000 range, and Villas at Willow Grove has 157 homes from the mid-$200s to the low $300s.
McKinney has become an immensely popular "new face" in a friendly, older "body."
Garage Door Service in McKinney
Local Reviews
for Mckinney, TX
Rated
4.9
out of 5 stars based on
95
customer reviews
Powered by Link Right Local
---
Great service
Greg

-

McKinney

,

TX



---
Great. Alf is a real pro.
Lacy

-

McKinney

,

TX



---
Roger
Harris

-

McKinney

,

TX



Great!
---
Diana
Springate

-

McKinney

,

TX



Very pleased
---
Great service
Patterson

-

McKinney

,

TX



Prompt and courteous. Very pleased
---
Friendly, fast and affordable
Greg

-

McKinney

,

TX



JR was fantastic. Very helpful and quick at his work.
---
Great service
Vines

-

McKinney

,

TX



I was having difficulties with my garage door that had been serviced by another company. I called action garage and explained my situation and they came out the same day arrived right on time. The technician went over every detail with me. By the time he left I understood what the problem was and was able to resolve my situation. Thank you very much!!!
---
Hoyt
Hoyt

-

McKinney

,

TX



---
Brian
Beaudette

-

McKinney

,

TX



---
Happel

-

McKinney

,

TX



Excellent and expert garage door repair.
---
Alf D.
New 8587 Wifi Installed On Wood Door. Program Old Remotes And keyless Keypad
Near
Pembroke Ln,

McKinney

,

TX

75070
Alf D.
New Springs Installed And Installed Chamberlin Belt Drive Opener Too
Near
Highlands Dr,

McKinney

,

TX

75070
Alf D.
New 387 Liftmaster Universal Keyless Keypad Installed. Reser Travel n Recommendation For Next Yearly Maintenance
Near
Highlands Dr,

McKinney

,

TX

75070
Rogelio G.
Replaced broken springs on garage door
Near
Binbranch Ln,

McKinney

,

TX

75071
Rogelio G.
Replaced broken springs on garage door
Near
Binbranch Ln,

McKinney

,

TX

75071
Rogelio G.
New garage door opener installation
Near
Waterside Dr,

McKinney

,

TX

75070
Jake S.
Installed new door
Near
China Berry Dr,

McKinney

,

TX

75070
Tyler A.
New garage door opener liftmaster 8365 1/2hp chain drive
Near
Hemlock Ln,

McKinney

,

TX

75070
Alf D.
New Springs Installed And 1" Center Bearing Repalced. Service Door And Opener
Near
Pine Meadow Ln,

McKinney

,

TX

75070
Alf D.
New Springs Installed And Door Hual Over. New 8355WiFi Liftmaster Beltdrive Install. Liftmaster Repeater Installed for 2012 Car And Keyless Keypad. Service Garage Door
Near
Lakewood Dr,

McKinney

,

TX

75070
Garage Door Service in other cities near McKinney:
Contact Us Today
To get started with your garage door repair, installation, or replacement, contact Action Garage Door in McKinney today and let's talk about the options available from the garage door repair company that has been caring for customers since 1984.
| | |
| --- | --- |
|  New Garage Door | Garage Door Opener Spring |
| | |
| Old Garage Door | New Garage Door |
| | |