Garage Door Repair Lewisville, Texas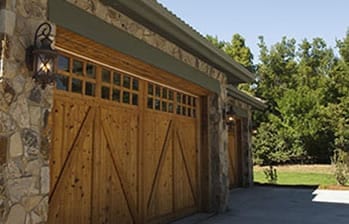 Professionalism and customer satisfaction are our number one priority when dealing with garage door service in Lewisville. Our Lewisville garage door repair company ensures you will never be let down when you call Action Garage Doors. When you want the best in garage door repair and other services, you have to turn to the best. For years, we have been providing residents all over Lewisville with the garage door service they need to have their garages in the best working order.
As a garage door repair company that is committed to customer satisfaction, nobody beats Action Garage Door. Our family-owned business has been satisfying customers for 30 years and we are waiting to help you find the services you need for your garage door in Lewisville. We'll provide you with a new door that will take whatever the weather can dish out, and all of our work complies with local codes.
Garage Door Repair Services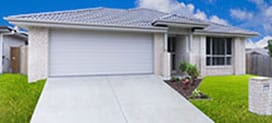 At Action Garage Door, we understand you have many needs when it comes to garage door service. For this reason, our garage door service goes way beyond simple repairs. We can get your door back on garage doors tracks, fix its garage door springs and cables, and provide several other types of repairs as well.
Types of Garage Doors Installations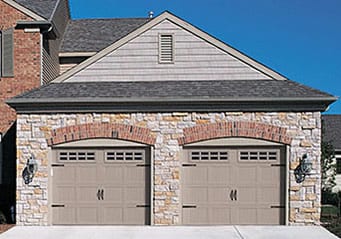 No two home or business owners are alike, and our garage door repair company understands that no two will want the exact same garage doors and set up. At Action Garage Door, we offer a variety of garage doors for installation in Lewisville homes and offices. Some of our options include Carriage House garage doors, Olympus garage doors, Classica garage doors, Stratford garage doors, Heritage garage doors, and Amarr garage doors.
In addition to the types of doors we install, we have a tool that helps you create a custom garage door so you can get the door that goes perfectly with your home or office. Whether you want to match the exterior just perfectly, or if you are picky about windows, a fully customized garage door is just around the corner.
Lewisville, Texas Community
Lewisville is a community that loves its location – close to the lake and with a penchant for boating, fishing, and water sports, local residents are as apt to keep boats and wave runners in their garages as cars, trucks or golf carts. So it's important that those doors operate well. After all, when it's time to head out to the lake, who wants to have a problem with the garage door?
The city of Lewisville, located northwest of downtown Dallas, describes itself as a community with "deep roots, broad wings, and a bright future." In many ways, Lewisville has reinvented itself during the past two decades – becoming a progressive, vibrant community and building on its past as a cohesive farming community with many ties to a far different North Texas history.
History of Lewisville, TX
In the 1840s, the Republic of Texas was interested in populating some of the far reaches of the territory and voted to grant 640 acres to families who agreed to settle on a distant portion that was destined to become Denton County. Bachelors were granted 320 acres. By 1846, the land had inhabitants and a grist mill; by 1925, when Lewisville was incorporated, the population was about 850, and there were "five cotton gins and two saloons," according to the city's published history.
Today, not quite a century later, Lewisville is a thriving suburb of Dallas that still has a bit of a country vibe and a growing population that numbers more than 100,000. It has changed dramatically from its early days, but it retains its former commitment to local life and family values. The early settlement was on the Elm Fork of the Trinity River. Today, however, because of dams built in the 1940s and 50s, Lewisville Lake, originally engineered as a flood control reservoir in 1927, has become a popular weekend resort area.
Lakefront property, boating, and recreational businesses spurred the growth of the city until fairly recently when its location made it a popular residential suburb.
Six marinas, two restaurants, and several nearby recreation areas make the lake a popular fishing and boating destination, and it can be extremely crowded on holidays and summer weekends. The lake serves as a water source for Dallas and surrounding suburbs and the city of Denton operates a hydropower facility at Lewisville Dam.
Living in Lewisville
Median income and median home prices exceed the state averages, although Lewisville is considered a moderately priced suburb in most respects. Median household income in 2013 was approximately $57,500; median home and condo value the same year was $154,500. Interstate 35E runs through the city, which is located about midway between Dallas and Denton. The Dallas Area Rapid Transit (DART) system's green line runs from downtown to Denton, with three stations conveniently located in Lewisville.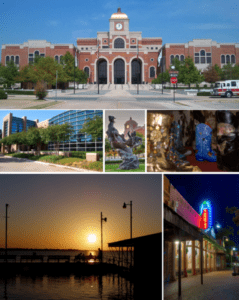 Vista Ridge Mall is a local shopping Mecca, and the city also has neighborhood eateries, service businesses, and boutiques to serve residents. Businesses are varied, ranging from locally-owned firms to chain restaurants and larger retail sales companies located along the highway and major thoroughfares. Neighborhoods are clustered around schools, with churches and convenience stores easily accessible.
The average age is relatively young, which makes it appealing for young families, and there is a good mix of owner-occupied residences and rental homes and apartments. Nearly half of Lewisville households have at least one child under 18 living at home, but there are a growing number of retirees who find the nearby lake appealing and the myriad leisure time activities irresistible.
Local Lewisville Attractions
It is not difficult to find activities in Lewisville, but much local activity is centered around the water and the boating community, the schools and family pursuits. Civic groups, religious institutions, and service organizations are well represented in the city, and it is an entrepreneur's dream, with almost 50,000 business enterprises having fewer than 10 employees. As you might imagine, the majority of residents who don't work at home or own a business commute to work. Because of that, the automobile rules: If you choose Lewisville as a place to live, you will likely spend a lot of time driving.
Lewisville Texas Garage Door Repair Reviews
Local Reviews
for Lewisville, TX
Rated
4.9
out of 5 stars based on
60
customer reviews
Powered by Link Right Local
---
Kevin
Hultman

-

Lewisville

,

TX



He did a great job. Very professional.
---
Great Service
Williams

-

Lewisville

,

TX



Scheduled appt prior day but somehow it was not scheduled. Called 15 minutes after expect repair Tech didn't arrive I called action. A Technician was at my house and completed the repair within 30 mins of the initial scheduled time. Techinition was very professional? Explained his work and expectations as a result.
---
Great Service
Tijirina

-

Lewisville

,

TX



Action was able to get a repair person out within an hour. Courteous and prompt service.
---
Service guy was great.
Wormington

-

Lewisville

,

TX



Nice young man. Service is always the most important and he did a great job and he as kind and courteous
---
Great Service
Greg

-

Lewisville

,

TX



Brian was great and fast.
---
Brian was knowledavle and extremely friendly. He was a pleasure to do business with. I would call your company back for all my service needs.
Buffington

-

Lewisville

,

TX



Brian was great!!! He was at my home quickly and was done within an hour! Thank you so much for the incredible customer service!
---
Garage door repair
Bonder

-

Lewisville

,

TX



Great service
---
Excellent service
Brian

-

Lewisville

,

TX



Truly impressed. Came quickly (within 3 hours of call), obviously knew his stuff. Quickly installed new opener. Cleaned up after himself. Opener works quite well.
---
Roddy
Davis

-

Lewisville

,

TX



Great service, friendly technician.
---
Good service!
Milian

-

Lewisville

,

TX



---
Brian C.
Replaced spring on garage door
Near
Logan Dr,

Lewisville

,

TX

75077
Brian C.
Did tune up inn garage door and opener
Near
Forest Creek Dr,

Lewisville

,

TX

75067
Brian C.
Did tune up on garage door and opener
Near
Cassion Dr,

Lewisville

,

TX

75067
Brian C.
Installed new LiftMaster screw drive garage door opener and did tune up on garage door
Near
Clydesdale Dr,

Lewisville

,

TX

75067
Brian C.
Professionally replaced springs, torsion tube, and drums on garage door
Near
Valley View Dr,

Lewisville

,

TX

75067
Brian C.
Installed new LiftMaster belt drive garage door opener
Near
Tablerock Way,

Lewisville

,

TX

75077
Alf D.
Action Garage Doors: Thanksgiving Day And We Are Still Fixing Garage Doors And Openers Issues. Happy Customer Now for Repairs Today
Near
Colgate Dr,

Lewisville

,

TX

75077
Brian C.
Replaced timers on garage door and dud tune up on garage door and opener
Near
Timbercrest Cir,

Lewisville

,

TX

75077
Brian C.
replaced springs and drums on garage door
Near
Live Oak Dr,

Lewisville

,

TX

75067
Brian C.
Replaced plastic rollers with new nylon rollers on garage door and did tune up on door and opener
Near
Willowridge Cir,

Lewisville

,

TX

75067
Contact Action Garage Door Repair

To get started with your garage door repair, installation, or replacement, contact Action Garage Door in Lewisville today and let's talk about the options available from the garage door repair company that has been caring for customers since 1984.
Garage Door Repair Surrounding Cities