WP_Error Object ( [errors] => Array ( [http_request_failed] => Array ( [0] => cURL error 28: Operation timed out after 15001 milliseconds with 0 bytes received ) ) [error_data] => Array ( ) [additional_data:protected] => Array ( ) )
Garage Door Repair Company in Lake Dallas, Texas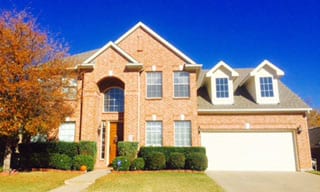 When your garage door isn't working properly, it can put you and your car at risk while also being a major inconvenience. Fortunately, Action Garage Door has a team of experts ready to handle any problems you're having with your Lake Dallas residential or commercial garage. Our experts can quickly determine whether you need new rollers or just need a minor fix or two to get your garage door back in working condition. We will ensure that your garage door is able to operate exactly as it should so that you can safely open and close it as often as you need to.
We offer residential and commercial garage door repair in and around the Lake Dallas area. When you rely on our professionals for your garage door repair needs, you can rest assured that the repairs will be handled expertly and efficiently. We can repair any damage on a wide range of garage door makes and models, or replace your garage door completely. Malfunctions can quickly become dangerous, so don't hesitate to contact us if your door is damaged or malfunctioning.
New Garage Door in Lake Dallas
When your Lake Dallas home or business is in need of a new garage door, Action Garage Door is here to help with selection and installation. We provide a wide range of garage door styles, designs, and models to choose from, so you're sure to find one that suits the needs and style of your home or commercial building. We offer steel and wooden garage doors, as well as carriage house and custom garage doors. After selecting your garage door, our experts will install it for you using the proper tools and equipment.
Living in Lake Dallas
Roughly 7,900 people call Lake Dallas home. Those who live here can purchase a home for less than they would pay in many other parts of the country. Average home prices in Lake Dallas are around $150,000, which is lower than the national average home price of $184,700 and slightly more than the state average home price of $142,700.
Despite a higher cost of living compared to other towns and cities in Texas, Lake Dallas offers some important advantages that continue to attract more and more residents. The city has excellent schools, a low crime rate, and pleasant weather most of the year. Affordable homes and convenient access to Dallas and Fort Worth also make this a great place to live. Residents can drive for just over 30 miles on I-35E S to reach Dallas or take TX-121 S, TX-183W, or I-35W S to get to Fort Worth, which is about 45 minutes away.
Residents who want to get involved in the local community in Lake Dallas have plenty of volunteer opportunities available. The Parks and Recreation Department looks for volunteers to support the Keep Lake Dallas Beautiful program. Other opportunities include the Adopt-a-Spot program, senior programs, volunteering at the local animal shelter, and community events.
Visiting Lake Dallas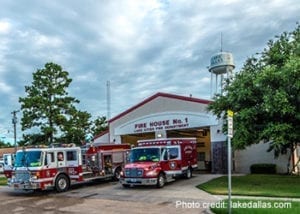 Lake Dallas offers several places to those who enjoy the outdoors. City Park features horseshoes, a tennis court, picnic tables, a playground, and more for outdoor fun, while Community Park offers a quieter place to unwind with a book. River Oaks Park is fun for kids of all ages with two play structures and places for the whole family to explore, including a walking and biking track. Thousand Oaks Park has a wooded setting with a pond for fishing and a walking track. At Willow Grove Park, visitors can camp overnight or fish in Lake Lewisville.
For those who prefer being indoors while having fun, Lake Dallas offers Swisher Courts. This indoor recreation center features state-of-the-art fitness equipment, basketball courts, and volleyball courts.
Lake Dallas also has a number of festivals throughout the year for visitors to enjoy, including the Lake Dallas Mardi Gras Celebration and the Lake Dallas Holiday Celebration. Other festivals that take place include the Lake Cities 4th of July Celebration, Mighty Thomas Carnival, Lake Dallas Halloween Celebration, and Waterfest at Willow Grove.
Action Garage Door has had an A+ rating with the Better Business Bureau since 1992. When it's time to repair your garage door or get a new one installed on your residential or commercial property, give Action Garage Door a call. And if you need emergency service, we will respond quickly!
---